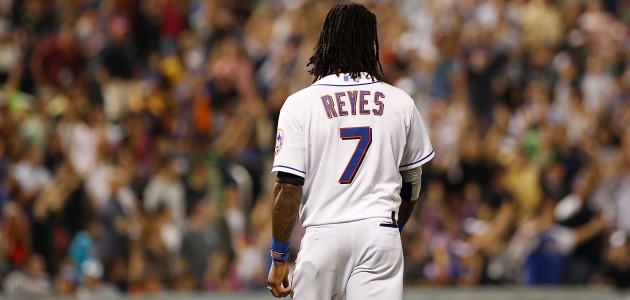 By Evan Brunell
Sandy Alderson appears to be changing his tune on
Jose Reyes
, and could be coming around to making the shortstop a part of the
Mets
' long-term future.
Speaking to the
New York Post
, Alderson gave his strongest indication yet that Reyes would not be traded even if the team is far out of the race by the trading deadline.
"If we're in it, it would be hard for me to see us trading Jose Reyes," Alderson said. "I don't think being out of it dictates anything. Whether we're winning or losing, I think, is a lot less relevant in Jose's case."
The only reason winning or losing wouldn't be relevant for Reyes is if New York was considering trying to keep Reyes. It's unlikely that both sides will come to an accord before Reyes actually hits free agency, but if the Mets are serious about keeping Reyes, they will have as good a shot as any team -- if not more -- to keep the 28-year-old.
Reyes could beat Carl Crawford's seven-year, $142 million deal if he keeps playing the way he is. Reyes leads all of baseball in at-bats and triples, while pacing the NL in runs scored, hits and batting average. That's a lot of leaderboards to show up on, and Reyes is doing it on the strength of a .336/.380/.508 line. It's no wonder, then, that Alderson is open to keeping Reyes in New York.
"Jose's situation is not a function of whether we're winning or losing on a short-term basis in July," Alderson added. "His future with us is not gonna be dictated by how we play, good or bad over the next month. . . . I just don't want there to be any nexus between how we play in the next month and what disposition occurs with Jose. I don't want anyone to have that misconception. It's not how I view it."
I think this is the first time the word "nexus" has ever been used in baseball circles.
That aside, while Alderson's intentions with Reyes are admirable, can the GM really afford to ignore what could be a tantalizing offer? San Francisco has been mentioned in connection the most with Reyes, especially given how weak their offense has been and the black hole that represents shortstop.
"They have sold out every home game, they have lost their best offensive player [Buster Posey] for the season and they can repeat as champs, especially if they add someone like Reyes," a NL personnel man said. If the Giants are willing to give up [left-handed starter] Madison Bumgarner, [top hitting prospect] Brandon Belt or [top pitching prospect] Zack Wheeler to front a package, how do the Mets not consider that strongly?"
Answer: they do. Any deal with the caliber of these three players mentioned, and New York almost has to make the deal and hope they can draw Reyes back in the offseason, especially Bumgarner or Wheeler. Belt would have to play left field given the presence of Ike Davis, and Belt's defense in left is not pretty. Besides, Jason Bay has that position on lockdown for a while thanks to his bloated contract. But the pitchers? That's what Alderson wants badly for the Mets.
That's all pure speculation, however. The odds remain that the Mets will keep Reyes, fight to finish .500 and then throw money at him in the offseason to entice him to stay. And he just might.
For more baseball news, rumors and analysis, follow @cbssportsmlb on Twitter or subscribe to the RSS feed.