By Evan Brunell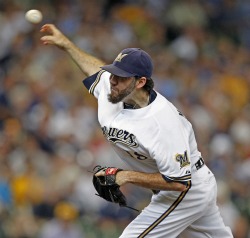 The
Brewers
ran out
Shaun Marcum
against the
Rays
in a loss Wednesday, pitching the right-hander just three innings.
It's possible Marcum could have gone longer, but manager Ron Roenicke said that 29-year-old was being removed after three innings, no matter what, due to a hip strain that caused him to leave his last start against Boston after just one inning.
However, if that was true, why did Roenicke allow Marcum to bat in the bottom of the third? Roenicke says it's because he didn't want to use a pinch-hitter that early in the game.
"I asked the trainers if the swinging was OK and they were find with the swinging," Roenicke told the Milwaukee Journal Sentinel of Marcum hitting. "It was the third inning. I didn't want to use one of our bench guys. And I didn't want to have [Yovani] Gallardo do it or take a chance of [Zack] Greinke going out there cold and trying to hit 95 [mph]."
However, that plan backfired as Marcum admitted to feeling something on his strikeout against
David Price
. The good news is that he had zero repercussions while on the mound, and that's where it counts, no matter what the anti-DH crowd says.
"It was just that one swing that aggravated it and irritated it a little bit," he said. "But that's part of it, I guess. I don't think it was anything major. Just something that's been lingering since we left Boston.
"But it felt good when I was pitching. I didn't notice it or feel anything out there on the mound. If I didn't [pitch] it would have been even more of a setback. I'm definitely glad I pitched today. I'm glad I came out of the game healthy, or healthier, I feel like, and be ready to go next week."
Marcum struck out two, walked one and gave up two runs on two hits in the three innings, throwing 35 of 54 pitches for strikes.
Marco Estrada
relieved him and was able to go another three innings. Along with a two-inning outing from
Tim Dillard
, the club came through the game just fine at minimal expense of the bullpen -- although it may have cost the game. Dillard gave up three runs in the seventh, which is all the Rays needed to break a tie and win 6-3.
Marcum will face the
Yankees
next Wednesday in New York.
For more baseball news, rumors and analysis, follow @cbssportsmlb on Twitter or subscribe to the RSS feed.