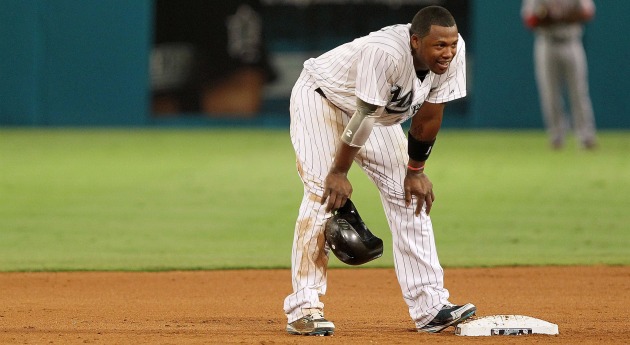 By Evan Brunell
You knew this question would have to be asked eventually. The
Marlins
, who are skidding deeper and deeper out of the playoff chase, could trade
Hanley Ramirez
, as
Buster Olney of ESPN
reports.
Olney says that several people inside the Marlins organization believe the club would be better off trading Ramirez. The 2006 Rookie of the Year threw up 29.9 Wins Above Replacement (WAR)
between '06 and '10
, which is the fourth-best tally over that time period behind
Albert Pujols
,
Chase Utley
and
Matt Holliday
. Ramirez is struggling in 2011 with a .206/.302/.299 line and a zero WAR -- meaning he's no better than a replacement player any team has lying around in the minors, but his slow start doesn't negate his talent. As a young shortstop who can do anything and everything on offense, Ramirez is a highly coveted player.
So why would the Marins entertain trading the main return in the deal that sent
Josh Beckett
and Mike Lowell to Boston?
The answer has to do with attitude, and to a lesser extent, defense.
Ramirez is not a popular player in the clubhouse, as the 27-year-old has constantly clashed with managers, fails to run at a competitive speed often and has been
called out in the past by teammates
, including veteran
Wes Helms
last season. Ramirez seems to march to his own tune, and unfortunately, it may be too late for him to be brought in line. The Marlins, thanks to owner Jeffrey Loria, are misers when it comes to the payroll and that naturally means far less veteran players (and voices in the clubhouse) are brought into the fold. Not only has Ramirez played on a perpetually young team, he's now one of the oldest starters and has Loria in his back pocket as a major fan who
gifted Ramirez a diamond-studded necklace
for winning the 2009 batting title with a .342 mark.
Maybe if veteran influences had gotten to Ramirez earlier, the story would be different. In his former home of Boston, it certainly would have been. Instead, it seems he took his mentor to be another Ramirez in Manny, who was a star for the
Red Sox
for years and showed Hanley and others that people will put up with almost anything as long as balls are being crushed. And now, trade or no trade, Ramirez is ensconced in his attitude and his way of playing the game. Whichever team acquires Ramirez will not have a model teammate on its hands along with a poor defender.
Ramirez's 29.9 WAR is calculated on the backing of everything a baseball player can possibly do between the lines that can be quantified. That's offense, baserunning and defense. That latter category is where Ramirez suffers greatly, as he has racked up -48 defensive runs saved (DRS) in his career. How bad is that?
Of all shortstops who played at least 650 innings from 2005 to the present (Ramirez is at 8,867 entering Wednesday's games), the righty is the fourth-worst defender in the game according to DRS.
Derek Jeter
is the worst, and it isn't even close, with 31 runs separating him from second place's
Yuniesky Betancourt
. Ten runs "better" is
Michael Young
, then Ramirez.
No matter how you slice it, Ramirez is brutal as shortstop and that won't change anytime soon, with
Buster Olney saying
that other team evaluators believe Ramirez is now too big to play shortstop. But really, he was never a good defender and really needs a move to third or center field, a prospect unlikely to happen in Florida for a variety of reasons.
Any team acquiring Ramirez with the intention of switching his position will have to worry about an unhappy player asked to move off the most athletic position on the field. A team will not want to deal with that distraction in-season, so any team looking to snag Ramirez by July 31 will have to do so with the idea of putting Ramirez at short moving forward. And not many teams are going to want to put a player hitting .206/.302/.299 at short for the rest of the year, even if Ramirez can and will turn it around.
So will the Marlins trade Ramirez?
Probably not during the season. And probably not during the offseason, either.
The Marlins, under Loria, have never paid a player $15 million. Ramirez would become the first player to be compensated as such under Loria if he remains in uniform next season, and is under contract for three more years after 2011. While the $15 million mark may not work in favor of Ramirez staying in town, the fact that he's tied up for three more years is. Florida has a bird in the hand with Ramirez, and won't be looking to give him away much like they were with
Dan Uggla
in the offseason.
The Marlins are also trying to head into 2012 with a strong team and a face of the franchise to build a new identity around. Florida will be moving into a new stadium, changing its name to the Miami Marlins, and debuting new team colors and uniforms. The Marlins were hoping Dan Uggla would be the face of the franchise upon the move, and acted very un-Marlinslike in offering him a four-year deal before blanching at his rejection and sending him to Atlanta for next to nothing. The Marlins need someone to build excitement heading into their new digs, and while
Mike Stanton
and
Logan Morrison
are certainly exciting, they're no Hanley Ramirez.
So no, Florida won't trade Ramirez, at least not before the 2012 season. But after that, all bets are off.
This is the Marlins, after all.
For more baseball news, rumors and analysis, follow @cbssportsmlb on Twitter or subscribe to the RSS feed.