By C. Trent Rosecrans
Rays manager Joe Maddon is known to buck the old managerial book, but today's is a little different.
Against Brewers right-hander Shaun Marcum, Maddon is loading up on right-handed hitters. He announced the move on Twitter: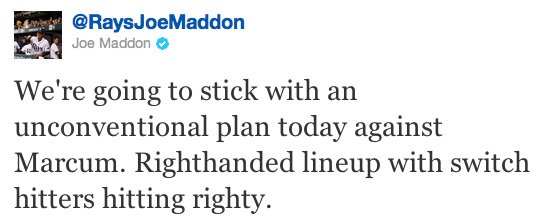 That means the team is keeping Matt Joyce, Johnny Damon, John Jaso and Reid Brignac on the bench. That means Ben Zobrist in right for Joyce, Sean Rodriguez at second, Elliot Johnson at shortstop and Kelly Shoppach behind the plate. Johnson and Zobrist are the switch hitters.
Maddon's one of baseball's best managers, and if I had the No. 1 pick in a managerial draft, he'd be my choice. That said, I'm not sure about this one. The rationale is likely that right-handers will have a better chance against Marcum's excellent changeup.
The numbers, however, don't exactly reflect that.

So far this season, right-handed batters are hitting .160/.225/.251 against Marcum and lefties are hitting .274/.312/.415 against him. Of the eight homers Marcum has allowed this season, five have been to left-handed batters in 20 fewer plate appearances. His career numbers are a lot closer, as right-handers hit .239/.297/.417 against him and lefties hit .241/.304/.401.

As for the two Rays switch hitters, Zobrist's numbers are pretty similar as a right-handed batter and a left-handed batter; Johnson is much better from the right side (.273/.400/.303) than the left (.167/.180/.354).

Of course, Marcum is in his first year with the Brewers and these Rays are familiar with the former Blue Jay. As noted in Jonah Keri's The Extra 2%, Maddon used a similar strategy against Marcum last season and the right-hander was 0-2 with a 5.55 ERA in four starts against the Rays. The Rays won three of those games. In the first, Marcum allowed 10 hits and five runs (four earned), but threw eight innings of one-run ball before giving up three hits and four runs in the ninth. The Rays pounded him in their next matchup, with 10 hits and seven earned runs in four innings. The second two matchups were less successful for Maddon's team, with Marcum going six innings each time, allowing five hits and one run in one start and six hits and three runs in the other.

For more baseball news, rumors and analysis, follow @cbssportsmlb on Twitter or subscribe to the RSS feed.