By Evan Brunell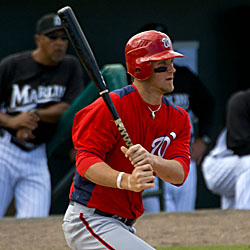 Bryce Harper is still suffering from the effects of a sore left thumb and will be limited in the South Atlantic All-Star Game on Tuesday, the
Washington Post
reports.
Harper is slated to bat third and play right field, but North team manager Brian Daubach -- who also manages Harper's Hagerstown Suns -- said he would only get a few innings in the game, which would suggest just one at-bat. The thumb injury caused Harper to miss the last two games of Class A's first half and also will not participate in the home run contest scheduled for prior to the All-Star Game.
Harper's thumb, which is sore due to being jammed by inside pitches repeatedly, said that "the thumb's feeling good," Harper said. "I tried to take those two days off, and I got them, and now there's time to rest it a little bit and be ready to go."
There has been wide speculation that Harper will be promoted shortly as he has nothing left to prove. That could be high-Class A or even Double-A, although Harper mentioned Triple-A and the majors when saying he would do whatever the
Nationals
wanted him to do. The No. 1 overall pick of the 2010 draft also spoke about the kissing incident, when he was sighted blowing a kiss in the air to a pitcher after hitting a home run.
"I don't really care what people say about me," Harper said. "Everyone can write what they want to write and think what they want to think. But my family and friends, and everybody who's been around me since high school and college, and everybody who knows me, knows what type of person I am. People are going to make assumptions. . . . They can do whatever they want. They don't know me."
For more baseball news, rumors and analysis, follow @cbssportsmlb on Twitter or subscribe to the RSS feed.