By Evan Brunell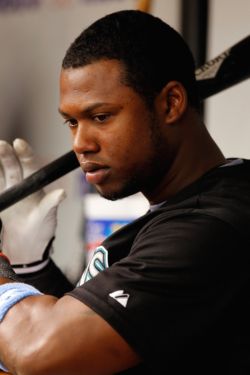 Hanley Ramirez
was benched Monday in Jack McKeon's return to managing for not running hard enough during the game Sunday. But it didn't help matters that Ramirez missed a team meeting at 3:30 p.m. Monnday. The "stretch is at 4:30 and I was there before 4:30 so I wasn't late," Ramirez told the
Palm Beach Post
. "Some guys come in early, they come in at 3. I come in at 3:30 every day," he said.
But one source inside the organization refuted that, saying that Ramirez was the only player not present when the team met, and that all players knew about the meeting.
Ramirez added that he's already talked to McKeon about his struggles this season, as the 2006 Rookie of the Year is hitting just .200/.298/.295 on the year in 229 plate appearances.
"Obviously, he knows what kind of player I am," the shorstop said. "I haven't shown it this year. He believes in me and I believe in myself that I should be hitting third or fourth all year long but things haven't gone the way they're supposed to go and everybody's been waiting. But we're still fighting out there on the field."
Meanwhile, Florida has lost 11 straight and is 2-21 in its last 23 games.
"We just need one game. That's what we need," Ramirez said. "We just need that inspiration and that motivation. That's like hitting. You just need one click and go from there. So we just need one game and I think we're going to go for there."
For more baseball news, rumors and analysis, follow @cbssportsmlb on Twitter or subscribe to the RSS feed.