By C. Trent Rosecrans

Sometimes a Twitter apology isn't enough -- or at least that's what Blue Jays starter Ricky Romero believes.

After defending himself and his postgame comments from last night on Twitter, Romero held a closed-door meeting to address his teammates.
MLB.com's Gregor Chisholm tweets Romero wanted to make sure his teammates knew he wasn't "calling them out" and his comments were misinterpreted -- or at least sensationalized.
Following a 2-0 loss, Romero had some frustrated comments about the team, which has scored just 13 runs in the nine games he's started that the Blue Jays went on to lose. Overall, he's 6-7 with a 2.98 ERA.

From the Toronto Star:
"All I can do is just pitch," Romero said. "I can't worry about the offense and what they do. I've always said this at one point we can't rely on [Jose] Bautista, we can't rely on [Adam] Lind. We've got to get somebody else to step up and get on base and drive them in. These guys are getting pitched around. Everyone's got to step it up or else we're not going to be winning ballgames. This team doesn't revolve around one or two guys. Everyone's got to put in their parts. That's how we win ballgames."
This morning he tweeted this: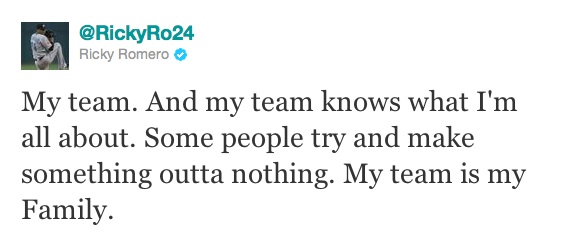 I don't know that any of his teammates took it as him "calling them out," just a pitcher that was frustrated after losing a close game. I'm pretty sure there were frustrated Blue Jays hitters saying the same thing, just nobody was asking them.
Expect this "controversy" to blow over quickly.
For more baseball news, rumors and analysis, follow @cbssportsmlb on Twitter or subscribe to the RSS feed.