By C. Trent Rosecrans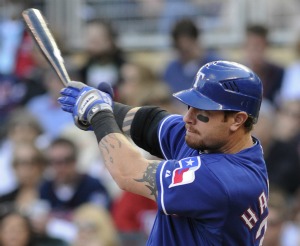 This time of year, Major League Baseball releases All-Star voting totals every week, and at some point it becomes white noise -- especially when there's no change in the voting.

In the American League update released Monday, the top three at each position remained unchanged.
Of the nine positions fans get to vote for in the AL, eight are currently occupied by American League East players, with Rangers outfielder Josh Hamilton the lone exception. And even the reigning MVP is getting some heat from Boston's Jacoby Ellsbury. Hamilton is third in outfield voting (trailing Toronto's Jose Bautista and New York's Curtis Granderson) with 2,400,408 votes, and Ellsbury now has 2,249,323 votes. Fellow Sox outfielder Carl Crawford is fifth.
The infield is dominated by Yankees -- catcher Russell Martin, second baseman Robinson Cano, third baseman Alex Rodriguez and shortstop Derek Jeter. First-baseman Adrian Gonzalez and DH David Oritz of the Red Sox lead at their positions.

Voting runs through June 30, and the teams are announced July 3.
The complete voting is available on MLB.com.
For more baseball news, rumors and analysis, follow @cbssportsmlb on Twitter or subscribe to the RSS feed.