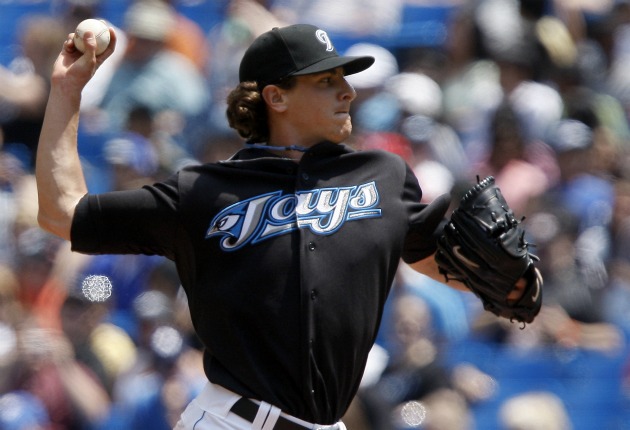 By C. Trent Rosecrans
The Blue Jays called up Zach Stewart last week to replace Kyle Drabek in their rotation. In his debut Thursday, Stewart went seven innings; he allowed two runs, leaving the game with the score tied. He'll take the mound again Tuesday in Atlanta searching for his first victory. CBSSports.com Eye On Baseball blogger C. Trent Rosecrans caught up with Stewart on Sunday at Great American Ball Park in Cincinnati to talk about his week that was.
Eye On Baseball: It's had to have been a crazy week for you, how did you get the news you were getting called up and what was your first reaction?
Zach Stewart: I was in Akron on the road and I went into the clubhouse that day and as soon as I got there, literally as soon as I got to my locker, Pete Walker, the pitching coach, called me into his office and he and Sal Fasano, the manager, was in there, they just [said] that I had a start on Thursday. I was obviously excited, and I couldn't stop smiling the whole day. Since then it's been one thing after another -- it's been crazy, but it's been fun.
EOB: That first day, are you trying to take everything in? It's different for a position player or a reliever than a starter. You've got a routine, and it's turned on its head because everything's new …
ZS: I tried to keep everything the same as possible, as far as what I normally do. It's kind of a lot to take in all at once. I just felt like trying to keep it simple, and the night I got there, I got to watch the game and everything, so that was good. I got to get some of the experience to watch those guys.
EOB: What's the biggest difference?
ZS: A lot more fans. The players are obviously of a higher caliber all around, one-through-nine in the lineup.
EOB: What about off the field?
ZS: The travel's a lot nicer, the hotels are nicer and all that stuff.
EOB: You've been a reliever and a starter -- and even in college you went back and forth -- how do you deal with that or have you gotten used to going back and forth?
ZS: I'm pretty used to it now. When you first get changed, it has its downside a little bit, because you have to get used to the routine of whichever one you're switching to. I feel like when I've been switched back and forth, I've handled it well and had success. It can be tough sometimes, because as a starter you have a set routine and in relief you have to go on the fly.
EOB: Do you prefer one over the other?
ZS: I prefer starting. I like the routine, I like being a starting pitcher.
EOB: Did you have enough time to get your whole family up for your first start?
ZS: Yeah, they came. My parents came, my wife came, my uncle came. Three of my buddies were even able to come up for it.
EOB: Were there nerves for the first start?
ZS: At first, I was pretty nervous, but once the game got going, you just get wrapped up in it and you don't even think about it and it's back to being baseball.
EOB: They always say that -- I have no concept of that, I played in front of 50 people in high school -- does it really shrink down to where it's just you and the catcher?
ZS: Honestly, at first I was nervous -- big stadium, big crowd, big leagues. Then once I got going, you realize you've got to do your job and you can't just sit there and focus on that stuff, you just have to focus on the game.
EOB: Nice to have a couple of days off to wait until that next start now that you're a starter, or are you just anxious to get back at it?
ZS: I'm really excited, I'm ready to get going. I'm doing all the necessary things, doing my normal routine, but I'm excited about it. It's been fun to come here [to Cincinnati, the team that drafted him], see the park and watch us winning. It's been a good experience.
EOB: And watch Jose Bautista hit against someone else.
ZS: Definitely.
For more baseball news, rumors and analysis, follow @cbssportsmlb on Twitter or subscribe to the RSS feed.