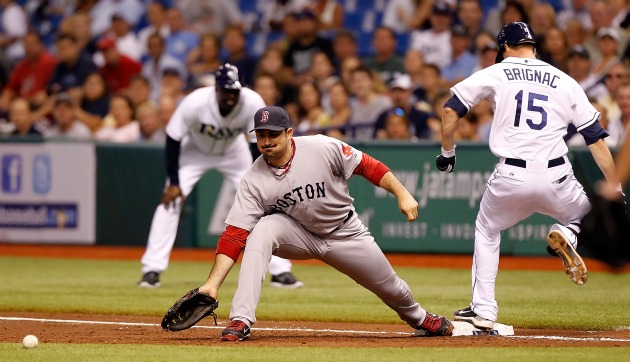 By Evan Brunell
Adrian Gonzalez
could play the outfield during Boston's upcoming foray into the National League, the
Boston Globe
reports.
Before Monday's game at Fenway Park against the
Padres
, manager Terry Francona said the
Red Sox
have discussed putting Gonzalez in right field in order to get
David Ortiz
in the lineup. Gonzalez and Ortiz are the two best hitters on the team, but Ortiz's only position is first base -- the position Gonzalez plays at a Gold Glove level.
"We've talked to him," Francona said. "We'll see. I'm glad he's willing to do it. I don't want David to sit nine straight games ... maybe a couple of times ... I know he's done it. We'll see."
Gonzalez has minimal experience in the outfield, playing right field during his time in winter ball and once in 2006 with Texas when
Mark Teixeira
was manning first. That's it.
It's a big stretch to ask Gonzalez to play the outfield, especially coming off offseason shoulder surgery, but what is Boston supposed to do? It can't sit one of its best hitters for nine-straight games, whether that's Gonzalez or Ortiz taking a seat. Boston wouldn't play A-Gon in the outfield for all the games, but even just three is an additional three games with a big bopper in the lineup. As long as Gonzalez is told not to be a hero on defense, it's doubtful that it's a major injury risk as well.
It wouldn't be too much trouble for Gonzalez to fit into the outfield, as the club just placed
Carl Crawford
on the disabled list. That frees up an outfield spot for Gonzalez, but interestingly, it appears the team wants Gonzalez to play right field, not left. Most slow first baseman who need to be stuck in the outfield go to left field, so why isn't left being considered for Gonzalez?
J.D. Drew
is a capable right fielder and isn't a zero on defense. It would seem that by putting Drew in an unfamiliar position in left field, the team is harming its defense at both outfield positions. In addition, the left-field replacements for Crawford in
Mike Cameron
,
Darnell McDonald
and
Josh Reddick
all have extensive experience playing center and right field.
The Red Sox go on the NL-portion of their schedule Friday when they visit Pittsburgh, Philadelphia and Houston with interleague play, which concludes July 3.
For more baseball news, rumors and analysis, follow @cbssportsmlb on Twitter or subscribe to the RSS feed.