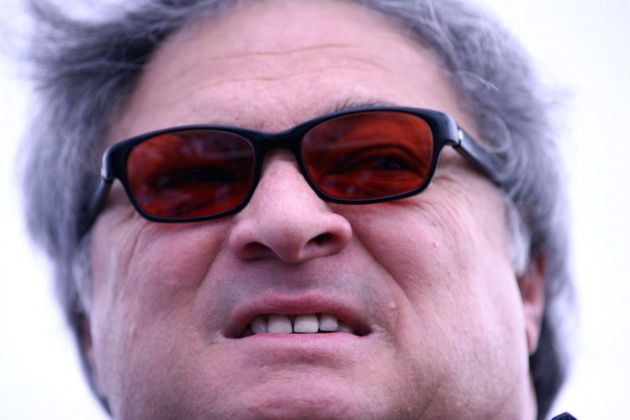 By Evan Brunell
Florida is on its fifth skipper in two years, fired its hitting coach in an unpopular move based on a string of one-run losses and traded one of its best hitters in the offseason when he dared to turn down a contract offer. That's just the latest in the saga that's unfolded under Jeffrey Loria's ownership, one that's drawn him comparisons to George Steinbrenner in New York.
But Loria is much worse than Steinbrenner.
Let's start with the similarities between Steinbrenner and Loria. The art dealer who came to the
Marlins
after negotiating a sweetheart deal to walk away from the Montreal Expos and let them relocate has unreasonable expectations for his teams, believing the Marlins should be playoff contenders. Last season, they were a true-talent team of a .500 club and finished 80-82. But that didn't save manager Fredi Gonzalez's job. He was fired with a 34-36 record.
Before Gonzalez, the Fish cut bait with manager Joe Girardi after he drew Loria's ire for not being a lackey, for standing up to Loria when the owner was berating umpires in his front-row seat next to the Marlins' dugout. In his only season with the Marlins, Girardi won Manager of the Year in 2005 after guiding the club to a 78-84 record. Steinbrenner, of course, had his own quick trigger with coaches and managers, overrating his team at times and overreacting to the downs that comprise an entire season.
But Loria also put Edwin Rodriguez in a tough position when elevating him to manager and never letting up. Before Rodriguez's resignation Sunday, there were rumblings that the first Puerto Rican to manage in the majors would be replaced by ownership over the objections of the baseball operations department. Rodriguez had guided the team to a 30-20 record on May 29, but a 2-19 record sealed Rodriguez's fate. He decided to take matters into his own hands and walk away as opposed to being fired. Rodriguez was already in an untenable position, being slotted as a lame duck after replacing Gonzalez amid rumors that the Marlins were trying to trade for
White Sox
manager Ozzie Guillen.
After Florida overturned every stone and failed to entice Bobby Valentine out of retirement, they signed Rodriguez to a one-year deal, clearly meant to bridge the gap until Florida found someone better. It would be to no surprise if the Marlins finagled Guillen's arrival in South Florida once the year is over. (And how exactly are Guillen and Loria supposed to get along?) Rodriguez never really got a chance to succeed, and when you pair that with an owner who will overlook a hot 30-20 start and focus on 2-19, the future is clear. Yes, a 2-19 start will threaten many a manager's job, but Rodriguez was in an unenviable position and charged with taking a young, cheap team to October.
Steinbrenner, however, never made excuses for his team losing. He cared about nothing more than winning, and his knee-jerk reactions stemmed from an overwhelming desire to win. That can't be said of Loria, who appears to look at his bank statement as the true barometer of winning.
Loria's image has never been favorable in this regard, but it took a massive hit last season when financial documents from several teams were leaked to the public. The Marlins made $37.8 million in 2008 while negotiating for a new park in which the team will only chip in $155 million for a complex expected to cost around $634 million, a report from
Yahoo! Sports
said. Taxpayers will have to make up the difference, and the park will end up costing $2.4 billion by 2049.
As part of these financial documents,
Yahoo! Sports
showed that Loria put millions into the pockets of himself and team president David Samson by listing Double Play Co. as a "managing general partner" -- the only baseball team to have a management fee among the six teams who saw financials leaked.
The CEO of Double Play?
Loria.
The president?
Samson.
Loria has taken untold millions that could have and should have been invested in the team and lined his own pockets while bald-face lying to Miami in order to get a new park and playing Ebenezer Scrooge as far as putting a quality team on the field. For years now, the Marlins have been able to stay rather relevant thanks to their superb job of acquiring young players who go on to make an impact.
Thanks to Larry Beinfest and Michael Hill in the baseball operations department (who have set the Marlins up for a long run of success once again), Loria has been able to justify his unrealistic expectations of Florida making the playoffs year in and year out and yet handicap the club with a small operating payroll, a practice that continues to this day.
The best slugger the Marlins have had in recent seasons has been second baseman
Dan Uggla
, who rejected a four-year, $48 million deal from the club. This was a significant concession by the Marlins, as they were offering to make Uggla the highest-paid player in franchise history, and yet it was a contract offer below what Uggla could get on the free-agent market. So they traded him to the division-rival
Braves
, whereupon he promptly signed a five-year, $62 million deal.
Last season, the Marlins had contract talks breaking down with ace
Josh Johnson
, and it would have surprised no one had Johnson been traded. The player's union swooped in, however, complaining about the Marlins' payroll and practices. That caused baseball to ask Florida to improve its payroll, so the Marlins did just enough to fend off the union by signing Johnson to a four-year, $39 million pact.
That type of miserly spending means the Marlins are usually a young ballclub -- one that lacks experience, leadership, knowledge of how to handle the grueling 162-game schedule, replete with all the distractions it has to offer, both on and off the field.
The latest distraction in Rodriguez's resigning is just another chapter in Loria's sordid career as a baseball owner. With a new ballpark on the way and an improving team, he's not going anywhere anytime soon, which leads to the question: How is Loria good for the game but Mark Cuban isn't?
For more baseball news, rumors and analysis, follow @cbssportsmlb on Twitter or subscribe to the RSS feed.