By C. Trent Rosecrans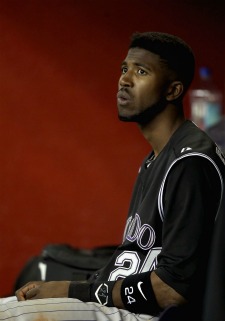 As expected, the Rockies have activated center-fielder Dexter Fowler from the disabled list and optioned him to Triple-A Colorado Springs.

Fowler had been on the DL with a left abdominal strain, but the Rockies got good production from his replacement, Charlie Blackmon. Had Fowler returned to the Rockies, it's unlikely he would have been any more than a backup or pinch-runner. Blackmon is hitting .378/.391/.400 so far this season, stealing five bases.
The team wants Fowler to work on his left-handed swing, Troy Renck of the Denver Post reports. The Rockies don't want Fowler to abandon switch-hitting but would like him to improve from the left side.
That seems odd, since he's been pretty bad as both a left-handed batter and right-handed batter. He has a higher batting average and on-base percentage as a left-handed hitter than as a right-hander. As a lefty, he's hitting .242/.341/.338 and is hitting (or not hitting) .226/.339/.377 as a right-handed hitter.

In his career, however, he's been better as a right-handed batter, hitting .282/.369/.414 right-handed vs. .243/.338/.380 left-handed.

It's possible this season's stats are skewed by smaller sample sizes, and scouts have seen holes in his swing left-handed. Fowler has benefited from a little bit of luck left-handed with a .365 batting average on balls in play as a lefty and a .293 BABiP as a right-hander.
For more baseball news, rumors and analysis, follow @cbssportsmlb on Twitter or subscribe to the RSS feed.