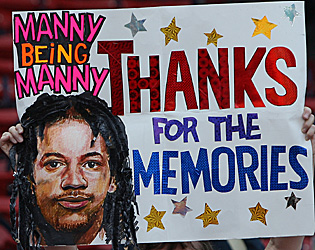 By Matt Snyder
Manny Ramirez may be retired from baseball, but he's going to be making a lucrative living from baseball for quite a while. There's been recent talk of how Ramirez is making more than $8 million from the
Dodgers
in deferred payment this season, but things go quite a bit farther when it comes to Ramirez and the
Red Sox
.
As reported on
Boston.com
, Ramirez is going to be paid $32 million over the course of 16 years. His first payment in that deferred sum comes July 1 of this year. Basically, he'll be paid about $2 million per year until he's 54.
Ramirez was a member of two World Series-winning Red Sox teams and he was the MVP in the 2004 World Series. After he signed the eight-year, $160 million contract -- which is where this deferred money comes from -- he finished in the top 10 of MVP voting five straight seasons. In his career, Ramirez hit .312 with 555 home runs, 1,831 RBI and a .996 OPS. So you could argue he earned this money.
Remember, this deferred money is simply money he was owed from the original contracts he signed, so it's not like it's a bonus or anything. It does appear to be a nice safeguard against future money woes, as we've seen far too many athletes blow fortunes upon retirement.
For more baseball news, rumors and analysis, follow @cbssportsmlb on Twitter or subscribe to the RSS feed.