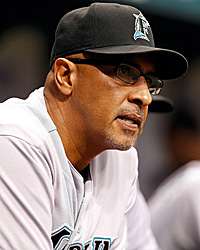 By Matt Snyder
In the midst of a likely season-crippling string of losses,
Marlins
manager Edwin Rodriguez has resigned. The Marlins accepted the resignation, effective immediately (
Marlins Twitter feed
). Bench coach Brandon Hyde will manage the Marlins Sunday, but the club will also begin a search for an interim manager. According to
CBSSports.com's Danny Knobler
, the Marlins will seriously consider Jack McKeon. "Trader Jack" is 80 years old and led the Marlins to the 2003 World Series championship after taking over in May for Jeff Torborg.
The resignation isn't all too surprising at this point, though it would have been a shocker about three weeks ago. Rodriguez had the Marlins in really good position in late May. In fact, he probably would have been a candidate for NL manager of the year had things continued on the same path. On May 26, the Marlins were only a game out of first place. They were playing .600 ball and appeared a legitimate threat for the postseason, especially if
Hanley Ramirez
started hitting and
Josh Johnson
came back healthy.
Since May 28, however, things have come completely unraveled. The Marlins are 2-19 since then. They've presently lost nine in a row and are 1-17 in June. They've fallen from second place to last in the NL East and all the way to 12 1/2 games back. It's difficult for anyone to keep his managing job through a run like that, much less someone who has held the post for only about one season.
"It's been extremely frustrating for everyone," Florida president of baseball operations Larry Beinfest said. "I think everyone here knows what is going on -- the way we've played, the way we've performed. It's tough on everyone, especially him."
"He communicated with me early this morning that this was something he was thinking about, and when I got to the ballpark we accepted his resignation."
Rodriguez was in the manager's office Sunday morning and spoke with some of the players.
"It was surprising, I guess, but I think it's more shocking," Marlins infielder
Wes Helms
said. "Right now, nothing is going right for us. Right now, it's all negative with the Marlins, that's the way it is. It's tough to swallow, it really is. I do know he did everything he could. We didn't do our job as a team."
Rodriguez, 50, took over June 23 last season for Fredi Gonzalez. Rodriguez was promoted from Triple-A and became the first Puerto Rican-born manager in major league history. He ends his stint with the Marlins at 163 games and a record of 78-85.
Beinfast did not rule out additional changes with the ballclub.
"When you go the way we've been going, I think everything is on the table," Beinfest said. "I'm probably on he table as well, and rightfully so. It's been a very difficult period and I think when you go through these things you can't rule anything out."
For more baseball news, rumors and analysis, follow @cbssportsmlb on Twitter or subscribe to the RSS feed.