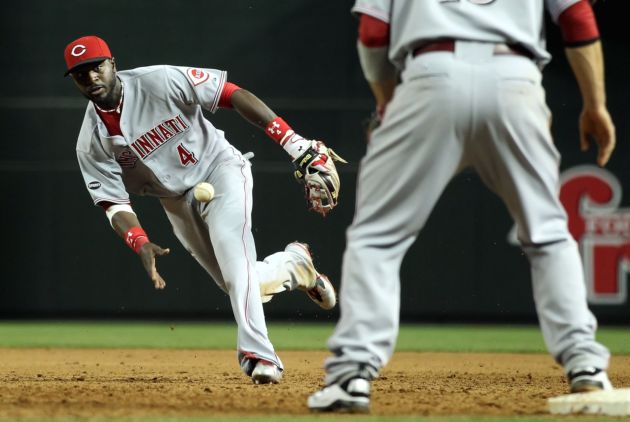 By C. Trent Rosecrans
The Reds are expected to pick up Brandon Phillips' $12 million option for next season, John Fay of the Cincinnati Enquirer writes.
The team hasn't spoken to Phillips about an extension, Reds general manager Walt Jocketty said, but didn't rule it out.
"He's got an option," Jocketty told Fay. "That's what options are for. We might try to get something done later."
Earlier this week, Phillips told Amy K. Nelson of ESPN that it would be "hard to keep me here," when asked about his future in Cincinnati. He added, "I'm not trying to break the bank. I'm just trying to be fair. I don't want Jayson Werth money or CC Sabathia money."
That's a little different than what Phillips has repeatedly told the Cincinnati media for the last couple of years. When speaking to Cincinnati people, he's always said he wants to stay in Cincinnati and follow in the footsteps of his boyhood idol, former Reds great Barry Larkin.
He reiterated his desire to finish his career as a Red when speaking to Fay on Saturday.
"I told the Reds and the whole world this is where I want to be," Phillips said. "If it doesn't happen, I'm going to be very, very disappointed. I feel like I've made this a second home. I bought a house here. This is where I want to be, man. The fans just took me in. I feel like I need to stay here and give back.
"Hopefully, it happens. If it doesn't happen this year, I feel in my head and my heart, it's not going to happen."
Phillips has not only made himself a fan favorite through his use of Twitter, but has also donated enough money to help rebuild a local youth baseball field through the Reds Community Fund. He's backed his talk up with actions off the field, to be sure.
Atlanta signed second baseman Dan Uggla to a five-year, $62 million deal this past offseason. Uggla has more power than Phillips, but Phillips is a better all-around player. Philips won his second Gold Glove last season and has been even better defensively this year. His batting average and on-base percentage are about the same as they were a year ago -- and better than his career averages -- but his slugging percentage has taken a dip, as he's hitting .280/.338/.387 this season with five home runs. He hit 30 homers in 2007 and his home run numbers have dropped each season since.
Phillips will be 30 later this month, so any extension will take that into consideration.
Last year the Reds showed they are willing to pick up a questionable high-priced option when they picked up Bronson Arroyo's $11.5 million option before spinning that into a three-year, $35 million extension.
Phillips will probably be looking for something similar, although he's possibly worth more.
Uggla's contract will be one comparison, but the Reds could point to Rickie Weeks, who signed a four-year, $38.5 million extension heading into this season. Weeks has outperformed Phillips at the plate this season (although, Phillips is much, much better defensively). Phillips has also been much more durable than Weeks, who has played more than 130 games just once in his career, while Phillips has played at least 140 games in every season since coming to the Reds in 2006.
Phillips has the second-highest salary in the game for a second baseman, trailing only Chase Utley.
The Reds' payroll is at $80 million this season -- but they have Francisco Cordero's $12.125 million coming off the books after this season. The team also has raises coming to Arroyo, Joey Votto, Johnny Cueto and Jay Bruce. Votto's signed through 2013, his last season before he's eligible for free agency. He gets a $4 million raise for 2012 and $7.5 million raise to $19 million in 2013. Bruce also has an increased salary for each of the next five seasons.
Reds owner Bob Castellini has said he could afford to keep the core of his team only if the team's attendance picked up after their National League Central run of a season ago. So far this season, the Reds are averaging 24,230 fans a game at Great American Ball Park, which is actually down from last season's average of 25,438. The average should increase as school lets out for the summer, but if there's a big enough increase in attendance for Castellini to keep his word is still to be seen.
For more baseball news, rumors and analysis, follow @cbssportsmlb on Twitter or subscribe to the RSS feed.