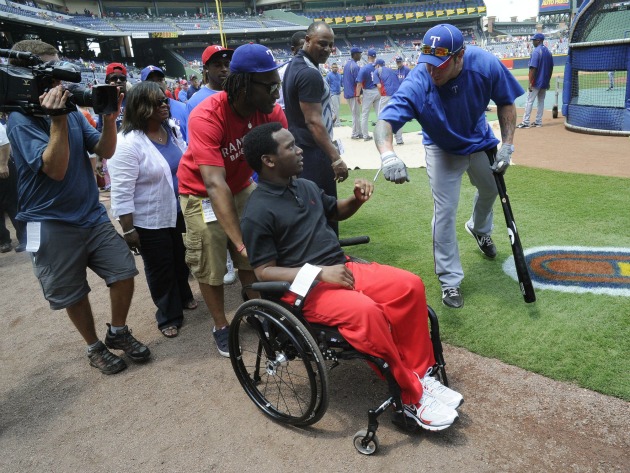 By C. Trent Rosecrans
The Rangers made headlines across the country -- including here at CBSSports.com -- for making paralyzed Georgia outfielder Johnathan Taylor's dreams come true by drafting him.
On Saturday, the Rangers announced they'd made a difference in another way -- by making what has been called a "substantial donation" to the Johnathan Taylor Fund. The team tendered a contract, but he won't sign with the club so he can continue to receive his scholarship, finish his degree and remain a part of the Bulldogs' program, serving as a student manager or in some other capacity, Jeff Wilson of the Fort Worth Star-Telegram writes.
"We met with his family this week and thought that was the right thing to do," Rangers scouting director Kip Fagg said on Saturday, according to Evan Grant of the Dallas Morning News. "His focus right now is his rehab and to finish school."
The Rangers held a press conference at Turner FIeld in Atlanta with Taylor, as well as the team's top two picks, Georgia high school left-hander Kevin Matthews, taken No. 33 overall, and Taylor's former UGA teammate, outfielder Zach Cone. Cone was taken with the 37th overall pick in the draft. Both Matthews and Cone signed their contracts with the Rangers on Friday.
Cone, incidentally, was the player who collided with Taylor in the accident that caused his injury.
"There were a lot of ups and downs to go through what we went through," Cone said, according to T.R. Sullivan of MLB.com. "It wasn't easy. But to see J.T. getting better, to see our team make a run, to get drafted by the Rangers and see J.T. up here, it's pretty sweet.
"This shows a lot about the Rangers and their organization and how they are about their players. To be here with and be teammates with J.T., it's awesome."
Taylor said he's determined not just to walk again, but to play baseball again.
"Right now, my goal is to get better during the rehab and focus on trying to get my legs back under me again and start walking and running and get back on that field again, like I always wanted," Taylor told the Associated Press.
Taylor's mother, Tandra, said she was told she would never be able to walk again after shattering her right knee in a car accident two years ago. It took her two years to get back on her feet, and she's sure her son will return.
"He's coming back," Tandra Taylor told the AP. "He's definitely coming back because you can't stop someone who is determined to do something, no matter what they say."
Taylor is rehabbing in Atlanta and was able to join the Rangers on the field before the game and watch batting practice, where he met Josh Hamilton and the other Rangers.
For more baseball news, rumors and analysis, follow @cbssportsmlb on Twitter or subscribe to the RSS feed.