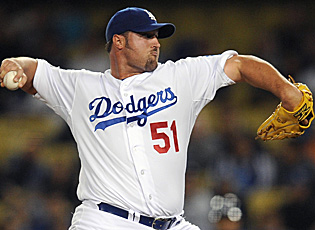 By Matt Snyder
The 2011 season has been one chock full of disaster for the
Dodgers
, so it's not surprising that two instances of good news are slightly negated by one item of bad news. Right now seems like one of those times where I ask if you want the good news or the bad news first. Since this isn't really interactive, we'll get the bad news out of the way.
One-time closer
Vicente Padilla
is likely out for the season after having surgery to fuse some vertebrae in his neck (
MLB.com
). He managed just 8 2/3 innings for the Dodgers this year, but did mix in three saves.
As for the good news, former -- and likely future -- closer
Jonathan Broxton
appears to be making progress. He's been on the DL since May 4 and wasn't even healthy in the few weeks leading up to that. He's ready to go out on a minor-league rehab assignment on the Dodgers expect him back before July.
Broxton, 27, is a two-time All-Star and was regarded as one of the best closers in baseball for a short time period. He dealt with inconsistency in 2010 and was pretty awful before hitting the DL this season. He has a 5.68 ERA and 1.90 WHIP in 12 2/3 innings for 2011 thus far. If he can come back fully healthy, though, his stuff is too good for him to not become effective again.
Meanwhile,
Hong-Chih Kuo
, who hasn't thrown since May 9 due to anxiety disorder, is feeling like he's ready to get back on the hill.
"I'm more excited than nervous, so that's a good sign," he told
Dylan Hernandez of the LA Times
.
When Kuo's right in the head, he's a great weapon from the bullpen. In 2009, he had a 2.14 ERA in 80 innings. In 2010, he had a 1.20 ERA and 12 saves in 60 innings. He's struck out 10.6 hitters per nine innings throughout his career. It's seemingly just a matter of him being mentally balanced when on the mound.
So, to sum up, Padilla's done, but Broxton and Kuo are likely coming back soon. The Dodgers have had a heck of a time figuring out who to use in the late innings, so getting the two back might provide some semblance of stability by the All-Star break.
For more baseball news, rumors and analysis, follow @cbssportsmlb on Twitter or subscribe to the RSS feed.