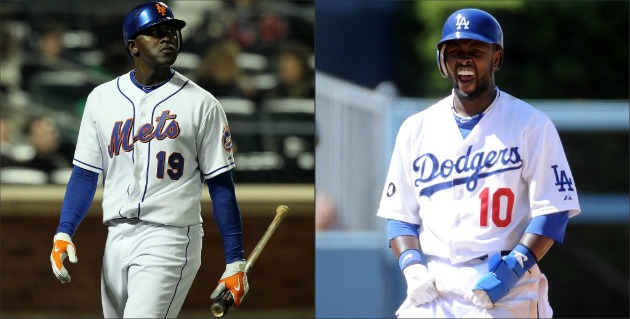 By C. Trent Rosecrans
In honor of Father's Day (make sure you have bought at least a card by now), earlier today Matt Snyder looked at 10 "disrespectful" sons of big leaguers, sons who had better careers than their fathers. Well, there are as many, or more, who couldn't quite live up to their fathers' legacy -- or "respecting" their father's legacy by refusing to overshadow dear ol' dad.
I've got to give it up to perhaps the greatest team ever, the Big Red Machine teams of the '70s, not only did the Reds dominate on the field, they produced several big leaguers -- and respectful ones at that. The other list had Ken Griffey Jr., but this list has four sons of Reds from the 1970s that were unable to make anyone forget about their more famous fathers.
Pete Rose Jr. Father: Pete. This one is pretty easy. "Charlie Hustle" had 4,254 more hits than his son. But you've got to give the younger Rose credit for not giving up, making his father proud. Little Pete battled in the minors for more than eight years before playing 11 games for the Reds in 1997. He played affiliated baseball until 2001 and independent baseball until 2009, hanging up his cleats at 39. He played in a total of 1,918 games below the big-league level, accumulating 1,877 hits.
Eduardo Perez. Father: Tony. Both now work for the Marlins, Tony in the front office and Eduardo as the team's hitting coach. But that's about the only similarity between the two careers. Tony Perez is in the Hall of Fame and made seven All-Star teams to go along with his two World Series titles. Eduardo Perez played in parts of 13 seasons with six teams, including his father's Reds. He finished with 445 hits -- just 2,287 fewer than his father.
Pedro Borbon Jr. Father: Pedro. Pedro Borbon was one of the unsung heroes of the Big Red Machine, appearing in 362 games from 1973-77, pitching 633 innings for Sparky Anderson in that period. He went 44-23 with a 2.99 ERA. He finished his career with 69 victories and 80 saves. His son has a World Series ring of his own, earning it in 1995 with the Braves. The younger Borbon was excellent in 1995 and 1996, putting together a 2.91 ERA in 84 games combined between those two seasons. He played in nine seasons, going 16-16 with a 4.68 ERA.
Brian McRae. Father: Hal. Before going to Kansas City to join another young team on the rise, Hal McRae started his career in Cincinnati as an outfielder. But he found fame in Kansas City where he was traded after the 1972 season. McRae was one of the best of the first generation of designated hitters, moving to the position full-time by 1976. A four-time All-Star, he finished fourth in MVP voting in both 1976 and 1982. In 1976 he led the American League in on-base percentage and OPS but lost the batting title on the last day of the season to teammate George Brett. Brian McRae also played with Brett. He had a nice career, accumulating 1,336 hits over parts of 10 seasons but was never the force his father was.
Dale Berra. Father: Yogi. Dale Berra played in an era where not much offense was expected of middle infielders, and he complied, putting up an OPS of .638 in parts of 11 seasons. He did finish with 49 home runs in his career; his father hit 309 more. The elder Berra was a three-time MVP and Hall of Famer.
Tony Gwynn Jr. Father: Tony. The younger Gwynn is just 28, but with 249 hits so far in his career, there's no way he's catching dad. Tony Gwynn had five 200-hit seasons and eight batting titles. He was elected to the Hall of Fame in 2007.
Lance Niekro. Father: Joe. Lance Niekro was not only a respectful son, but he also honored his uncle, Hall-of-Famer Phil Niekro. Lance played in 195 games over four seasons, the bulk of them coming in 2005. Unlike his famous father and uncle, the younger Niekro was a position player, hitting 12 home runs in 2005 for the Giants. In 2009, Niekro tried a comeback as a knuckleballer, pitching one season in the minors before retiring. Joe Niekro was often overshadowed by his brother, but he was no slouch, either. In 1979, he was an All-Star and finished as the runner-up in Cy Young voting and sixth in MVP voting, going 21-11 with five shutouts. He was fourth in Cy Young voting in 1980 when he won 20 games.
Gary Matthews Jr. Father: Gary. The younger Matthews made a lot more money -- and I mean a lot -- but his dad was a better player. The elder Matthews, nicknamed "Sarge," won Rookie of the Year in 1973 with the Giants and finished fifth in MVP voting for the 1984 Cubs when he led the majors with a .410 on-base percentage. He finished with 2,011 hits and a .281/.364/.439 slash line to go along with 234 career homers. The younger Matthews made one of the game's best catches and turned his one All-Star season into a five-year, $50 million deal with the Angels that pays him $12.4 million this season, even though he's no longer playing. In parts of 12 seasons, the younger Matthews hit .257/.332/.405 with 1,056 hits and 108 home runs.
Brian Bannister. Father: Floyd. The younger Bannister announced that he'd no longer play baseball after leaving the Yomiuri Giants following the tsunami in Japan this March. Brian Bannister pitched in parts of five seasons with the Mets and Royals, making 114 starts, going 37-50 with a 5.08 ERA. He won 12 games in 2007 along with a 3.87 ERA, but it would prove to be his best season. His father pitched for six different teams across parts of 15 seasons, winning at least 12 games five times and finishing his career 134-143 with a 4.06 ERA. He also made the 1982 All-Star team.
Josh Barfield. Father: Jesse. Jesse Barfield was one of the great sluggers of the 1980s and owner of one of the best outfield arms in baseball history. He hit 40 home runs in 1986, also winning a Gold Glove that season. His son, Josh, hit 16 home runs over parts of four seasons, his last coming in 2009. He's currently playing for the Phillies' Triple-A team in Lehigh Valley, Pa.
For more baseball news, rumors and analysis, follow @cbssportsmlb on Twitter or subscribe to the RSS feed.