By C. Trent Rosecrans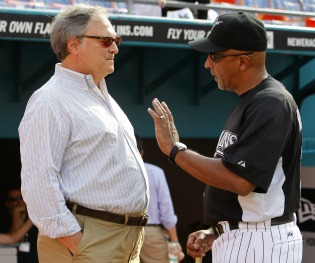 Marlins owner Jeffrey Loria isn't thinking about changing managers… yet.
Marlins president David Samson spoke to Joe Capozzi of the Palm Beach Post about the team's struggles, but if I'm Rodriguez, the quotes aren't making me think about ditching the rental and buying real estate in South Florida.
The Marlins fired their hitting coach a week ago, so it's no surprise a reporter would be asking about Rodriguez's job status. Still, Samson didn't sound prepared to answer that particular question.
"It's not something that I have pondered with Jeffrey. I can't really say that… I can't really say, to be honest with you…" Samson said. "List, [general manager] Larry [Beinfest] and I are talking every day. Larry is talking with his baseball people to figure out what the best thing we can do, how we can get this turned around. Obviously, it got sour very quickly. I've never seen something turn as quickly, so we've got to figure out what, if anything, needs to be done."
The Marlins, with their loss on Thursday, have lost seven in a row and 15 of their last 16 (or 17 of their last 19, if you want to go back even a little further). Given the Marlins fired hitting coach John Mallee last week and Rodriguez only has a contract through the end of this year, it's understandable if he's feeling the heat. Add to those Loria's history of a quick trigger, it wouldn't be a shock of Rodriguez already has his office packed up ready to go at a moment's notice.
"I saw the firing of Mallee coming," Rodriguez told Clark Spencer of the Miami Herald. "I was more worried about Mallee than firing me. I think it would be a mistake [to fire me] because I don't think anything is going to change on the field. I'm grateful they gave me a chance to be here. What they do after this, whatever they want to do."
Last June Loria fired Fredi Gonzalez and named Rodriguez the interim manager. After flirting with several other managerial choices, most notably Bobby Valentine, Rodriguez was named the manager for the rest of the season and then given a contract for just the 2011 season. Many expect Loria to go after a big-name manager for 2012 when the Marlins move into their new stadium and perhaps make another run at Valentine.
Rodriguez at least has his best player behind him.
"I'm on his side," Hanley Ramirez told the Miami Herald. "Whatever he does, I'm good for it, because he's the best guy we've ever had here.
"Everything is bad right now. But he's there for you. I'll never complain about anything he does. He's a pretty good guy and a pretty good manager. He's smart."
Rodriguez is certainly smart enough to know his days as Marlins manager are numbered.
For more baseball news, rumors and analysis, follow @cbssportsmlb on Twitter or subscribe to the RSS feed.