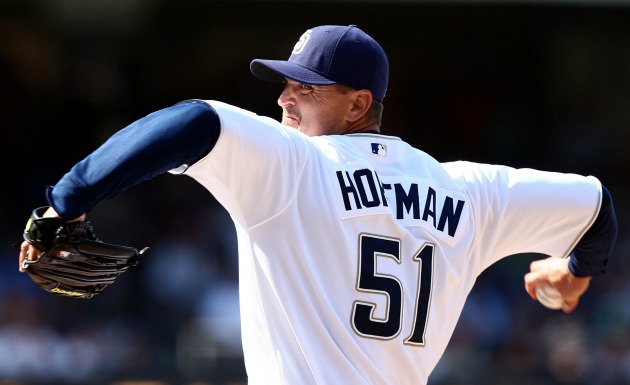 By C. Trent Rosecrans
A couple of weeks ago my sister asked me if I'd ever heard of Trevor Hoffman. I informed her I indeed had and tried to explain to her just who he is. Apparently her fiance was at a game talking to "this Hoffman guy" instead of talking to her on the phone, so she wanted to find out just who he was, because if he never appeared in People, she wasn't going to know.
Well, Dr. Rosecrans -- yes, she's an MD, so intellect isn't the problem -- may have been the only one surprised on Thursday when the Padres announced they would be retiring Hoffman's No. 51. The official ceremony will take place Aug. 21.
"I'm extremely flattered by this and really excited about it," Hoffman told MLB.com's Corey Brock on Thursday. "Unlike [his retirement ceremony], this will be more of a celebration, something that's in-season and that I can share with the fans."
Hoffman is currently a special assistant to Padres team president and chief operating officer Tom Garfinkel.
Hoffman recorded 552 of his 601 career saves with the Padres. The Aug. 21 celebration will be held before San Diego's game with the Marlins, the team that Hoffman broke into the majors with in 1993. He was then traded in June of that season to San Diego in the deal that sent Gary Sheffield to the Marlins.
He joins Steve Garvey (6), Randy Jones (35), Tony Gwynn (19) and Dave Winfield (31) as Padres with their numbers retired. Every MLB team has retired Jackie Robinson's No. 42.
For more baseball news, rumors and analysis, follow @cbssportsmlb on Twitter or subscribe to the RSS feed.