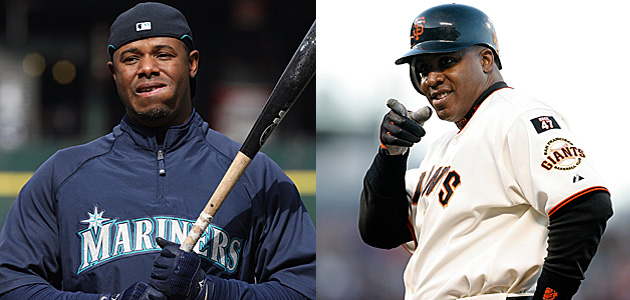 By Matt Snyder
With Father's Day coming this weekend, it's the perfect time to think about how you can show up your Dad. What better way than to remind him you're better than he is? Maybe disrespectful, but still fun nonetheless.
I know when my son becomes more successful in life it will certainly be a sign of disrespect. Assuming in the sense that you disrespect your father if you outperform him -- and we're also assuming you have a sense of humor and realize this is tongue-in-cheeck -- we've compiled a list of 10 recent sons who disrespected the memory of their fathers by playing better. This is by no means exhaustive, just a quick glance at 10 dudes who played within the past decade or so that were better than their major-league fathers. Look for 10 "respectful" sons to be posted later Thursday at Eye On Baseball.
Roberto/Sandy Alomar. Father: Sandy.
Sandy Sr. played for 15 seasons in the majors, making a single All-Star Game. He hit .245 with just 13 career home runs and a .578 OPS. He obviously stuck around for defensive purposes, yet never won a Gold Glove. He did have two sons come along and show him how it was done. Robbie's a Hall of Famer and one of the greatest second basemen of all time. Sandy Jr. had far too many durability issues to come close to that type of stature, but he did make six All-Star Games, won a Rookie of the Year and played in two World Series.
Barry Bonds. Father: Bobby.
Bobby was no slouch, that much is for certain. He was a great power-speed combo guy, garnering 332 home runs and 461 stolen bases in his 14 seasons. He finished in the top five of MVP voting twice and ended his career with an .824 OPS. His son, however, scoffed at the notion of simply living up to Dad. He obliterated Bobby as a player. Barry won seven MVPs and is one of the greatest players in baseball history.
Robinson Cano. Father: Jose.
If you didn't know Jose Cano was a major-league player, you can rest easy. You are certainly not alone. Jose appeared in six games as an
Astros
pitcher in 1989. He had a 5.09 ERA and 1.35 WHIP in 23 innings. Robinson's already one of the best second basemen in baseball and could very well be on his way to a Hall of Fame career, but that remains to be seen. Regardless, he's far exceeded his father already.
Prince Fielder. Father: Cecil.
Cecil was one of the most prolific home run hitters in baseball for a good seven years. He led the majors in RBI for three straight seasons and was the first to break 50 homers in years. Prince, however, already has more wins above replacement and has been one of the most feared power hitters in baseball for the past five years. He's having a monster season, with an OPS over 1.000 and leading the NL in RBI. By the time the dust settles, Prince's big-league career will dwarf Cecil's. Remember, Cecil wasn't good until he was 26. Prince is 27 now.
Ken Griffey Jr. Father: Ken.
Similar to the Bonds duo, Ken Sr. was hardly a bad player. He was a three-time All-Star and two-time World Series champion. He had a career .290 batting average and .359 OBP. He stole 200 bases while hitting 152 homers. But Junior was an icon, a 13-time All-Star and 10-time Gold Glover who clubbed 630 home runs in his career.
Jason Kendall. Father: Fred.
Fred appears to have been one of those catchers who just hangs on forever because he's a reliable backstop. He was a dreadful hitter, as evidenced by his career .234 average and .598 OPS. Using OPS-plus, he had only one above average season and was otherwise not even close to average. You won't mistake Jason for a Hall of Famer, but he was a three-time All-Star and a really good-hitting catcher for about six seasons. His career .366 OBP is very solid for a catcher, and you've got to respect those 189 steals.
Robb Nen. Father: Dick.
The elder Nen played in parts of six MLB seasons, accruing 918 plate appearances. He hit just .224 with a .288 OBP. Robb was a dominant closer for about a decade, gathering 314 saves and 10 strikeouts per nine innings over the course of his career. He was a three-time All-Star, twice went to the World Series as closer -- winning once -- and moved the radar gun to triple digits on occasion. Even though Robb's career ended rather abruptly, it still was far superior to that of his father's.
Cal Ripken Jr. Father: Cal.
Cal Sr. never made the bigs, but he did manage there. He had a far-from-illustrious minor-league career as a player. We know all about Cal Jr. and his consecutive games streak, along with the Rookie of the Year, two MVPs, all those All-Star Games, the 431 home runs and, well, you get the point.
Nick Swisher. Father: Steve.
Steve made an All-Star Game in 1976, but he was overall a pretty bad hitter and never won a Gold Glove (he can thank Johnny Bench for that). Simply put, Steve Swisher was a nine-year major-leaguer who couldn't hit (.216/.279/.303) but stuck around because he was a backup catcher. Nick's a solid corner outfielder, having hit more than 20 homers six times and sporting a career .357 OBP. He's been to an All-Star Game and won the World Series, too.
Jayson Werth. Father: Dennis.
Dennis Werth played in just 117 games in parts of four seasons, hitting .209 with three home runs and 15 RBI. He was basically just a pinch-hitter, getting 172 plate appearances in those 117 games. Jayson's been to an All-Star Game, two World Series, led the league in doubles, hit 129 bombs and now cashed in with a huge contract from a possibly up-and-coming team.
For more baseball news, rumors and analysis, follow @cbssportsmlb on Twitter or subscribe to the RSS feed.