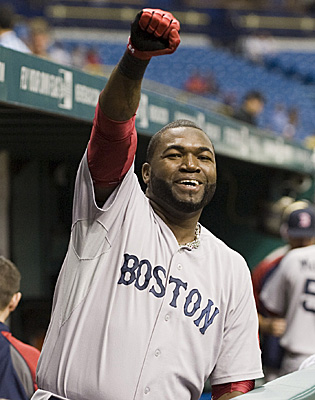 By Matt Snyder
With all this talk over the past week of realignment, moving of teams to different leagues and perpetual interleague play, I can't help but think we're putting the cart before the horse.
You see, any talk of having to play interleague games involves the DH question. It's a disadvantage for American League teams to have to play in NL ballparks, because they lose one of their better hitters.
David Ortiz
and
Billy Butler
will be relegated to pinch-hitting duties. The
Tigers
might shift
Alex Avila
to third base so
Victor Martinez
can catch and stay in the lineup.
Adam Dunn
-- who has been awful, but recently started swinging better -- is likely to ride the pine.
On the flip-side, National League teams aren't built with DH-types. So when they visit AL parks, they're forced to play a different brand of baseball and sometimes use a light-hitting utility player at DH. More often, they put their worst defender at DH and play someone else on defense -- think of the
Cubs
using
Alfonso Soriano
at DH in Fenway Park, for example.
Still, it's not how the teams are built.
When it's just a few games a season, no one seems to mind. But when you think about doing it all season -- as most of the realignment proposals suggest by moving a team to the AL and creating two 15-team leagues -- it becomes more of an issue.
The only thing I can think of is that the
most important series of the season
has this problem every single year. It has since 1973. The World Series is affected by the fact that two leagues playing the same sport have a fundamental rule difference.
How do we not collectively, as fans of the great game, revolt over this ridiculousness?
What if the East had no 3-point line in the NBA but the West did? What if the AFC didn't have an illegal contact rule on defensive backs, but the NFC did? What if the East allowed offsides in the NHL, but the West didn't? Don't those sound absurd?
Well, baseball has a huge difference in rules for each league. It wouldn't matter for the regular season if there were no interleague play, but, again, the freaking World Series would still tilt drastically in favor of the home team for each game because of how NL and AL rosters are built.
Saying to make the DH universal -- that is, to add the DH to the NL -- sets anyone up for scrutiny. You can't say you're for it without accusations of hating the purity of the game being hurled in your direction. But let's think about this logically, step by step, with three simple points:
1. I don't care if the DH is eliminated or added to the NL, but its use
has
to be uniform. Pick one side or the other.
2. The Players Association will never allow the league to eliminate the DH. It provides extra jobs to aging veterans who can swing the bat but can't field anymore. It extends careers. You can argue this vs. purity of the game all day long, or you can concede elimination of the DH isn't happening.
3. Runs are way down now that the game is (relatively) cleaned up from PEDs. While stellar pitching is exciting to people like you and I, it doesn't excite youth or casual adult fans like scoring runs does. Baseball is not nearly as popular with today's youth as some other sports, and that could become a problem down the road. There's already a growing problem with casual adult fans in terms of ratings and dwindling attendance. With the pitcher spot a virtual automatic out -- excluding the
Jason Marquis
and
Carlos Zambrano
types, of course -- it makes sense to use a DH in both leagues in an attempt to slightly increase offense.
It isn't radical to suggest the NL adopt a designated hitter. In fact, it's radical to have two leagues with a major rule difference. Making things balanced is simply common sense.
It's time to end the madness. Before anything else is done to baseball, the designated hitter needs to be used everywhere.
For more baseball news, rumors and analysis, follow @cbssportsmlb on Twitter or subscribe to the RSS feed.