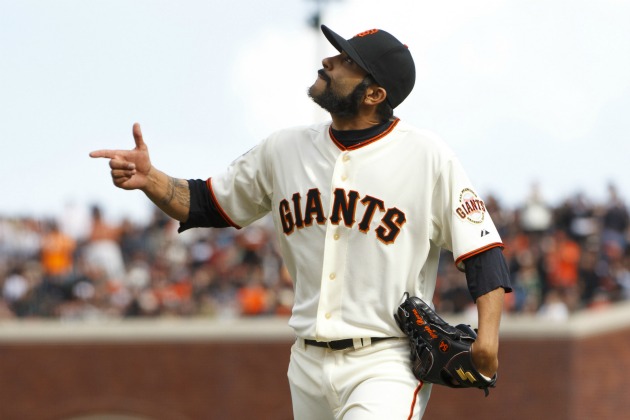 By C. Trent Rosecrans
When filling out the roster for the All-Star team, National League manager Bruce Bochy said he'll have at least one easy tie-breaker -- if the player is a Giant, he will get the nod.
"I'll try to be fair, but I'll be biased, to be honest," Bochy told reporters, including Andrew Baggarly of the San Jose Mercury News. "If I can get guys from my club on there, I'll do it. That's the prerogative you get as manager."
That attitude is far from unusual, even if it's not really fair. But as long as the current system is in place, it'll continue to happen. And while I don't necessarily like it, I do understand it. As a manager, your No. 1 priority is your own team and its well-being. If you can boost the confidence or reward one of your own players and get them in your corner, you're going to do it. Bochy will do it, Ron Washington will do it and I would do it if I were in their shoes. It's just the way it is. Last season Joe Girardi named eight Yankees to the All-Star team and according to Baggarly, since 1996 pennant winners have averaged 4.7 representatives in the game.
However, Bochy is looking at doing one thing differently in picking his All-Star squad -- loading up on middle relievers. Bochy said he is looking hard at adding the likes of his set-up men, Sergio Romo and Javier Lopez to the team. He also said he's giving serious consideration to Atlanta's Jonny Venters and Washington's Tyler Clippard. All four are certainly worthy, especially over a pitcher earning cheap saves for a bad team.
Really, who is more deserving of an All-Star spot -- Leo Nunez and Huston Street, or Venters and Romo?
Nunez and Street each have 19 saves -- one fewer than league-leader Brian Wilson (a Giant who will likely get an All-Star nod) -- but Nunez has a 3.77 ERA and 1.26 WHIP, while Street has a 3.69 ERA and 1.17 WHIP. Meanwhile, Romo has a 2.29 ERA and a 0.76 WHIP (in fewer innings, to be sure) and Venters (who has more innings than either Nunez or Street) has a 0.44 ERA and a 0.74 WHIP. Venters may be baseball's best reliever right now, if he's not an All-Star this season, nobody is.
The All-Star manager picking more middle relievers is another move away from a reliance on the save stat -- and with expanded rosters and homefield advantage on the line, middle relievers are more likely to be used in situational moves and in the type of situations they are used to, in the middle of an inning with runners on. Closers usually come in with a clean slate in the ninth, needing just three outs to pick up the save, while a guy like Venters or Romo is used to coming in with men on and the game on the line.
And when it comes down to that situation, Bochy -- or any manager -- will want to put the game on the line with someone he knows well, and that could be Santos or Lopez, and that's OK with me.
For more baseball news, rumors and analysis, follow @cbssportsmlb on Twitter or subscribe to the RSS feed.