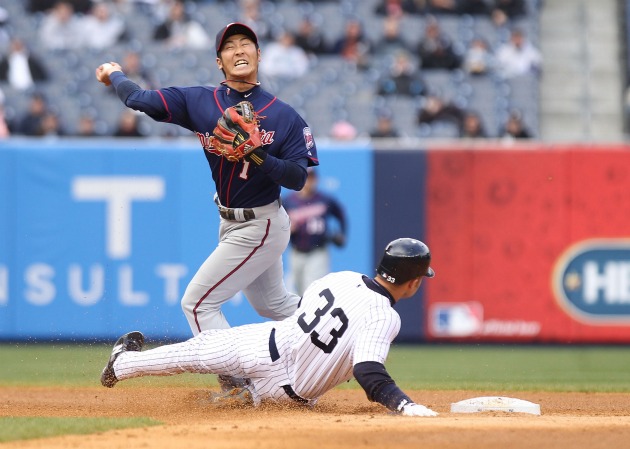 By C. Trent Rosecrans
Tsuyoshi Nishioka, out since April 7 after suffering a broken fibula, returns to the Twins tonight, taking the roster slot of Justin Morneau, who was put on the DL with a wrist injury.
The Twins will be getting catcher Joe Mauer and former closer Joe Nathan back soon, as well. Mauer will return to the Twins for Friday's game against the Padres, while Nathan will likely go to Triple-A before returning to the Twins, Minnesota manager Ron Gardenhire told reporters before Wednesday's game.
Nathan (elbow) threw 30 to 40 pitches to Mauer (bilateral leg weakness) on Wednesday morning, and both players told the Fort Myers News-Press that they expect to return to Minnesota soon.
Nathan said he would be leaving for Minneapolis on Thursday afternoon along with Mauer, but Nathan will still get some minor-league time before pitching for the Twins.
"It was a lot longer than I had hoped," Mauer told the paper about his rehab. "But I got my work in, and I worked with a lot of great people down here. It was nice, but obviously I want to be up there in Minnesota and be up there playing. I feel like I'm ready to get out of here."
Nishioka was the Twins' biggest offseason pickup, and played just six games before his injury. He was now had more rehab games than big league games, going 4 for 12 for both the Twins high-Class A team and for their Triple-A team, playing four and three games, respectively.
For more baseball news, rumors and analysis, follow @cbssportsmlb on Twitter or subscribe to the RSS feed.