By Evan Brunell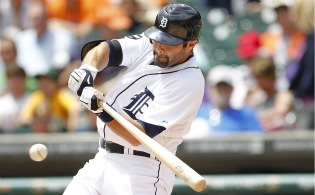 Manager Jim Leyland isn't pleased about the fact he will have to remove one of his best hitters from the lineup when interleague play begins.
Miguel Cabrera
is entrenched at first base, and
Alex Avila
has been the primary catcher behind the dish -- but Detroit can't remove
Victor Martinez
from the lineup. That's caused Leyland to get a little creative in his thinking.
"I'm contemplating playing Alex a game at third," Leyland told the Detroit Free Press. "I had him quietly take some grounders [at third] yesterday. It's just a thought I'm having to get his and Victor's bat in there. I'm trying to be a little creative. It's not a major story.
"I'm trying to be creative because it's six in a row. I hate to lose those bats. I'm not saying I'm even going to do it. I'm just thinking. I'm wracking my brain so I can have those bats in there."
Even the Tigers were taken aback at Avila's progression, as he is currently hitting .296/.355/.545 with nine home runs and 12 doubles in 216 plate appearances. That's two more homers and doubles than he had last season in 333 PA. With Avila such an important part of the offense and what looks to be a fight for the division all year, it's understandable why Leyland is trying to find ways to put Avila in the lineup.
"There are a lot of catches to it," Leyland noted. "If you play Alex at third and then you want to take him out for defense in the seventh inning, then you're naked at catcher.
"There are a whole lot of things that go on. You've got to say, 'I'm willing to live with the consequences,' and you've got enough guts to do it, or you don't. I'm not sure."
The Tigers head out to Colorado for a weekend series before heading to Dodger Stadium. After an off-day, they will return home next Friday to host the
Diamondbacks
.
For more baseball news, rumors and analysis, follow @cbssportsmlb on Twitter or subscribe to the RSS feed.