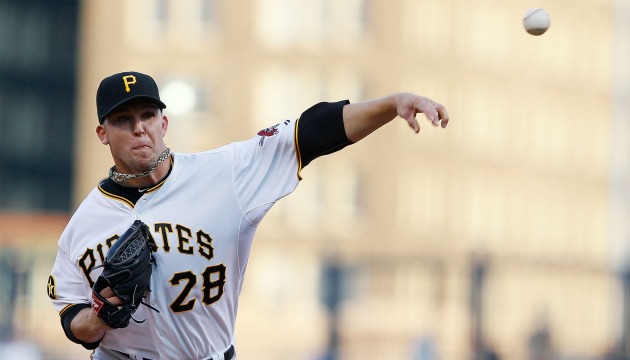 By Evan Brunell
Paul Maholm
was supposed to be one of the last players jettisoned from Pittsburgh before the
Pirates
went on their run of success. While he could still be, there is a groundswell of support for the lefty to stay in town and it all starts with his career-best 3.21 ERA (discounting his six-start season as a rookie in 2005) along with a strong 3.89
xFIP
. Maholm, who showed signs of breaking out back in 2008, took a couple steps back the previous two years, in no small part due to luck. But things are breaking his way this year.
OK, the win-loss record isn't, as Maholm is just 3-7, but he's inched his strikeout rate back to just under six whiffs per nine. While his BB/9 is 3.22 which leads to a middling 1.81 K/BB ratio, he's been able to keep his home runs allowed down and induce batters into weak contact on ground balls.
Now, with the Pirates just one game under .500 and an increasing belief that the organization will seek to snap the .500 skid this season to remove the monkey from Pittsburgh's backs, it's possible Maholm could stay in town, whether his $9.75 million option is picked up or via a contract extension, the
Pittsburgh Post-Gazette
reports.
"I'd definitely talk to them," Maholm said. "I said that in the spring. They control everything. They have the option. They have the ability to trade me. They have the ability to wait and see what happens. ...
"I'm not going to beg for [a new deal], but I'd be open to what they have to say. I enjoy the guys here. I enjoy the staff. The fans are great. I like the city. Why wouldn't I talk to them? I haven't heard anything from them yet and I don't know that I will. I just hope they come to me soon if they are going to do it. I don't want them to come to me the week of the trade deadline and hit me with everything right then."
If Maholm hits the free agent market, there's no doubt he would attract plenty of interest, especially given the paucity of free-agent starting pitchers available. Despite a fastball that struggles to hit 89, Maholm has pitched more innings since 2006 than any left-hander except
Cole Hamels
. That type of durability is a major attraction, especially as a pitcher.
"I think guys know that, no matter what, I'm going to put it all out there," Maholm said. "They know I'm going to battle and expect to win every game. I'm never going to give up."
The Pirates would be wise to extend Maholm, as their rotation is currently comprised of
Kevin Correia
, who is in the first year of a two-year deal and is best treated as a middle-of-the-rotation starter;
Jeff Karstens
, who is currently befuddling everyone with his success;
Charlie Morton
(ditto, but he may last) and
James McDonald
, who could be better than he is if he could firm up his command. There's also injured starter
Ross Ohlendorf
, but it's anyone's guess what he can contribute.
The Pirates do have some intriguing pitchers at the high levels of the minors in Brad Lincoln and Rudy Owens (plus Gerrit Cole, drafted with the No. 1 overall pick who could debut next year) but all in all, it's a rather motley crew. Extending Maholm would give the Pirates a long-term piece in the rotation for the next three to five seasons that they can actually count on.
For more baseball news, rumors and analysis, follow @cbssportsmlb on Twitter or subscribe to the RSS feed.