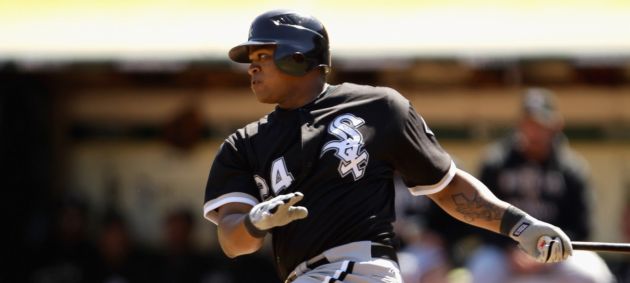 By Evan Brunell
The next big White Sox slugger, GM Kenny Williams believes, is currently plying his trade in Triple-A. Unfortunately for Dayan Viciedo, he hasn't received the call to the majors yet in 2011.
"I'm not going to bring him here to sit," Williams told MLB.com. "[Manager] Ozzie [Guillen] is not ready to change the mix he has right now, and that has to be respected."
Viciedo is currently hitting .318/.365/.518 down in Triple-A with 10 home runs in 266 plate appearances. Factor in the 22-year-old's .308/.321/.519 mark in the majors last season over 106 PA, and it certainly seems as if Viciedo is ready.
"It would be awfully interesting to have him in this lineup," said Williams. "He's ready. He's obviously got some things he still needs to work on, but I would have no qualms about bringing him here.
Nicknamed "The Cuban Tank," the main blocking of Viciedo is due to left fielder Juan Pierre. After coming up as a third baseman, Viciedo has shifted to right field, which the team believes has allowed him to focus on offense. But Viciedo won't be supplanting DH Adam Dunn, center fielder Alex Rios nor corner outfielder Carlos Quentin anytime soon. That leaves Pierre, but Guillen believes that speed at the top of the lineup is valuable.
Still, even to Guillen speed only goes so far.
"If you have speed and you can't hit, then we don't need your speed," said Guillen. "Speed is good when you get on base and you can hit, and that's what Juan has been doing lately. You always like to have some speed at the top to make things happen. This guy can run, but you can't steal first."
Pierre hasn't exactly been getting on base lately, counter to Guillen's belief. He did have a .286 average and .365 OBP in May, but his OBP was .286 in April and .311 in June, which gives him an overall line of .259/.324/.304. In addition, the 33-year-old has stolen 10 bases -- and been caught nine times, which leads all of baseball. Players need to steal bags at a minimum rate of 75 percent to break even and cause stealing bases to be of value to a team, so Pierre is actively harming the White Sox with his decisions. Also, Pierre has been uncharacteristically poor in the field, which creates an all-around lousy player.
Viciedo is expected to supplant Pierre in the outfield, whether that's this month or after the season as Pierre is an impending free agent. And Viciedo himself expects big things.
"That's going to be the trio of Chicago," Viciedo mentioned of himself, Carlos Quentin and Alex Rios.
"There are some pretty good hitters in the lineup just mentioned," Williams said. "Someone else will have to figure out the leadoff spot, if that were something to think about."
Viciedo hasn't come up even as a bench player yet because both Williams and Guillen are in agreement that Viciedo needs to play every day. Guillen says if Viciedo is called up, he needs to play at least five times a week, good for about 20-30 plate appearances.
"He is slowly acquiring a little bit more plate discipline, and the ball comes off of his bat harder than anyone we have," Williams added. "And the sky is the limit to where his potential can take him."
For more baseball news, rumors and analysis, follow @cbssportsmlb on Twitter or subscribe to the RSS feed.