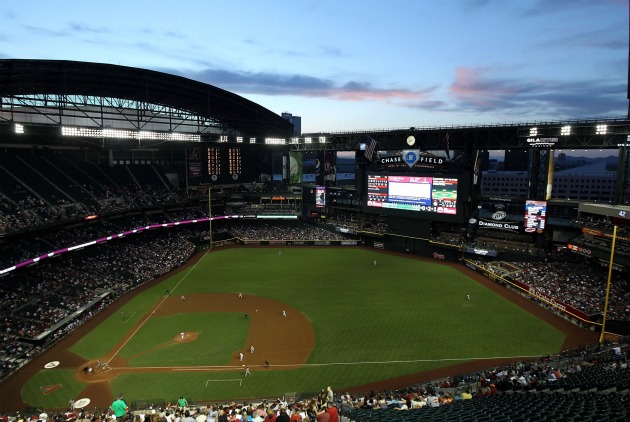 By C. Trent Rosecrans
If baseball goes through realignment, it appears the Diamondbacks could be the team to switch from the National League to the American League, USA Today's Bob Nightengale writes.
"We would do whatever's best for baseball," Diamondbacks president Derrick Hall told Nightengale. "Most would say us or the Astros would be the best candidates [to shift leagues]."

Later in the day, Hall told the Arizona Republic's Nick Piecoro that he didn't expect the Diamondbacks to move.

"Naturally, we would look into it if asked about it. But I'm not sure we'd ever get to that point because I think other teams make more sense geographically than we do," Hall told Piecoro (via Twitter). "For me personally, I'm a National League guy. I like the pace of the game, the strategy of the game. That's what I prefer. I would want to hear what our fans prefer, but I'm not sure we would ever get to that point."

Hall then added this on Twitter: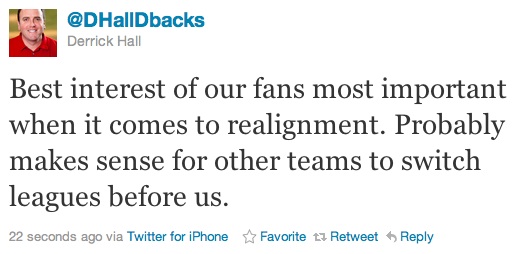 The Astros were the team floated by ESPN's Buster Olney in his report this weekend that baseball was considering evening out the two leagues by moving a team. Monday, current Astros owner Drayton McLane said he doesn't want the team to move to the American League.
"I've always been a National League guy," McLane told Richard Justice of the Houston Chronicle. "I think our fans are National League fans."
McLane said all the fans he heard from didn't support the move, either. That may hold more sway than McLane's vote. McLane has already agreed to sell the team to Jim Crane and, as Justice notes, it's unlikely Crane would make such an unpopular move so soon after purchasing the team.
If the Diamondbacks move to the American League West, the Astros could join the National League West, leaving the Central to the Midwest teams (and Pittsburgh).

The other team that might make some sense would be the Marlins, but more so in the 15-team, no-division scenario. Making room for the Marlins in the AL East would seem to be a stretch, perhaps moving the Blue Jays to the AL Central and the Royals to the AL West.
For more baseball news, rumors and analysis, follow @cbssportsmlb on Twitter or subscribe to the RSS feed.