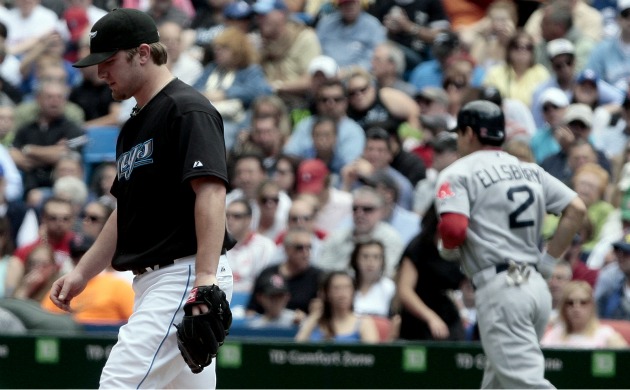 By Evan Brunell
Isn't it high time to send
Kyle Drabek
back to Triple-A?
Manager John Farrell is adamant that won't happen, as the
Blue Jays
feel the right-hander needs to develop in the majors.
"I just want to cut that off right now," Farrell said before Drabek's start on Sunday to the National Post. "There's been no discussion of sending Kyle to Triple-A or to suggest that what he's dealing with, in his own maturity right now, is leading to that. So that needs to be squelched right now."
Sorry, John, but there's no squelching to be had after Drabek's brutal outing against the Red Sox, lasting just four innings (and not registering a single out in the fifth, facing five batters) and throwing 91 pitches, just 49 percent for strikes. He gave up eight earned runs with an eye-popping three home runs allowed. He did strike out five, but his control issues continued unabated with four walks, pushing his season total to 52. Compare that with 48 strikeouts, and you have a beyond-awful K/BB rate. His 0.92 ratio is last in baseball among qualified starters, with the Angels' Tyler Chatwood second-worst at 1.01. Compare that to MLB leader Roy Halladay and his 7.57 mark.
"I'm very frustrated right now," the 23-year-old said. "I couldn't tell you the last real quality game I've had. It's frustrating walking people and giving up hits, not giving your team a chance to win."
No one, not even Drabek, knows why he's so erratic with command. Drabek claims he is fine between starts when he tosses bullpens, but once the game starts, he can't throw strikes. That was particularly evident in the third inning when Drabek fell behind the final five batters of the inning by throwing 13 balls and six strikes.
But a demotion? Nope, Farrell says. Again, why?
"He's learning as he goes," Farrell said before the game. "And we are fully accepting of the growing pains that he is going to be better for in time. He may walk out today and throw seven shutout innings, and now all of a sudden he's overcome all his issues."
This is all the more confusing given the Jays demoted another struggling young starter, Brett Cecil, to the minors where he is working on regaining his lost velocity and spotting it. It seems as if Farrell's reasoning is based solely on Drabek suddenly figuring things out, but couldn't you say the same of Cecil? Even if Toronto contends that Cecil needed work beyond just suddenly figuring it out, like they seem to feel Drabek can do, couldn't Drabek benefit from rediscovering his lost command in the minors where he would have a chance to boost his overall confidence, which could lead to improved pitching?
Right now, Drabek is 4-5 with a 5.70 ERA. That's not a major-league pitcher, and Toronto needs to re-evaluate its stubborn decision to not keep Drabek down on the farm. Drabek's next start comes against the
Reds
on Saturday. If he's not able to turn in a quality start, Farrell needs to rethink his position on sending Drabek down.
For more baseball news, rumors and analysis, follow @cbssportsmlb on Twitter or subscribe to the RSS feed.