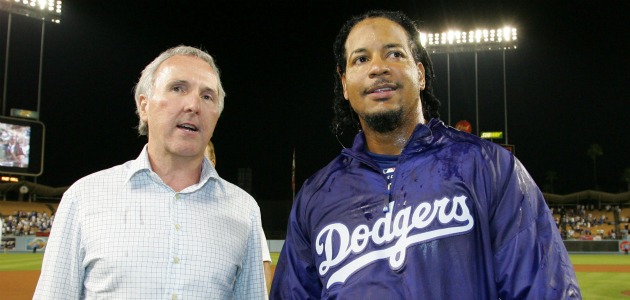 By Evan Brunell
Frank McCourt appears to have a fight on his hands to meet all his payroll obligations for the month of June.
McCourt, who has already skated past previous payroll dates by the skin of his teeth, now has to meet payroll for both June 15 and 30, while contending with a court hearing June 22 that could determine his future with the
Dodgers
. And that's not all, as Manny Ramirez's 2011 deferred payment from his two-year, $45 million deal signed 2009 is due by June 30.
ESPN's Molly Knight
confirmed on Monday that Ramirez is due $8.33 million by June 30, according to a source. However, it was already well-known that Ramirez was due $8.33 million by June 30 of 2011-13, with initial reports, including
SI.com's Jon Heyman
, coming shortly after the deal was inked in time for the 2009 season. The contract details had Ramirez being paid $10 million in 2009 and 2010 for his services, with deferred payments at no interest of $8.33 million due each of 2011-13.
Whether this is new information to the public, rest assured that this is not new to McCourt, who had to approve the deal as owner. He's known that this payment was coming for a while, so while it might be a lot harder for McCourt to come up with enough money for June, he's been prepared for it.
It could also become irrelevant very soon, as McCourt is due in court June 22 for a hearing in which he is asking the judge to approve a TV deal the Dodgers struck with Fox that has been held up by commissioner Bud Selig. All of McCourt's troubles trying to hang onto the team and pay his players would go away with a TV deal, while Selig seems intent on forcing McCourt out of the league. At the same court hearing, his ex-wife Jamie is requesting the judge order the team sold. If that ruling passes, how much money McCourt owes to the team and Ramirez becomes irrelevant.
For more baseball news, rumors and analysis, follow @cbssportsmlb on Twitter or subscribe to the RSS feed.