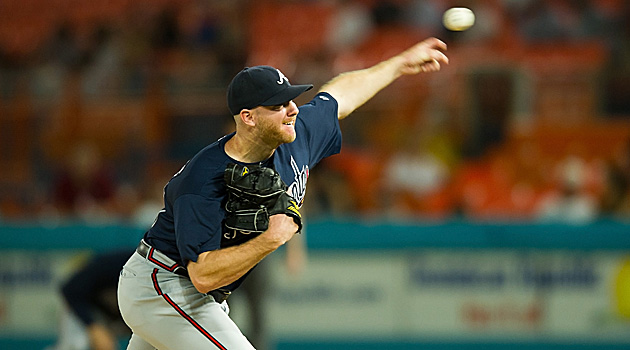 By Matt Snyder
This just in:
Jonny Venters
is a stud. With a 0.47 ERA, 0.72 WHIP and 40 strikeouts in 38 2/3 innings, he's been the most dominant reliever in baseball during the still-young 2011 season.
Craig Kimbrel
isn't far behind. He's got 18 saves and has struck out 47 in 31 innings. He's suffered a few hiccups, unlike Venters, but has shown that he can dominate.
It's just that the workload of the youngsters might be a bit much at this point in their respective careers.
Venters has appeared in 35 games. He's on pace for 92 appearances and 102 2/3 innings. Kimbrel has appeared in 32 games and is on pace for 84 games and 82 innings.
Last season, only five relievers logged 80-plus innings, including Venters (83).
Matt Belisle
of the
Rockies
was at the top with 92. Only six pitchers threw in at least 80 games and only one more than 85. That pitcher?
Pedro Feliciano
, who will not throw in the 2011 season due to a significant arm injury.
And here's the kicker: There was not a single pitcher in baseball last season who had more than 80 innings
and
80 games. Both Venters and Kimbrel are on pace to do so this year, and Venters is on pace to amass a workload we haven't seen given to a short reliever since
Scott Proctor
in 2006. Proctor hasn't been the same since, because of injuries and alcoholism. Under the circumstances, it's possible the high workload didn't cause injury, but we can't really be sure it didn't, either.
The point is that Venters and Kimbrel are being used almost excessively by Fredi Gonzalez. Kimbrel's probably OK where he is, but should still be monitored. There's enough past evidence to be wary of the path Venters is headed down, though. He's only 26 and should team with Kimbrel to scare the rest of the NL for years to come.
It's not like the
Braves
don't have options.
Eric O'Flaherty
has a 1.52 ERA and has been solid. Of course, he's also logged 29 2/3 innings. What about
George Sherrill
? The former All-Star has only worked 15 1/3 innings and has a 2.35 ERA.
Scott Linebrink
and even Proctor could be trusted in a few fill-in spots as well.
I'm not advocating a drastic pull back for Venters and Kimbrel. They're young and strong enough to handle 75-80 innings pitched. It's when they get up into the 90-range -- and then possibly being heavily leaned upon in the playoffs -- that could become a serious problem.
You don't want to baby pitchers, but that doesn't mean you should run them into the ground, either. Considering the Braves are likely to be in the race all season and find themselves in lots of close games, it would behoove them to start spacing out the use of the young dynamic duo -- especially Venters.
For more baseball news, rumors and analysis, follow @cbssportsmlb on Twitter or subscribe to the RSS feed.