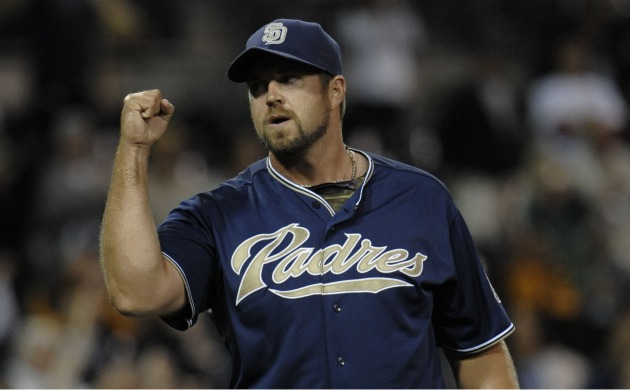 By Evan Brunell
The trade market should start heating up very soon, and it's possible that
Padres
closer
Heath Bell
will kick off trade season.
Bell is expected to be moved soon, ESPN's Buster Olney writes. The Padres obviously have no interest in retaining Bell as closer and paying him eight figures when they have capable replacements in
Mike Adams
and
Luke Gregerson
-- plus a current last-place standing in the NL West.
Bell is going to be marketed as a closer. If another team (
Rangers
?) wants to acquire him as a middle reliever, San Diego could care less -- but they're going to get a package back worthy of one of the game's most elite closers. That will freeze out a lot of teams' interest, but here's a look at five teams that could use Bell as a closer:
Angels --
The Angels are trying to win and stave off falling out of contention in the West. They have
already shuffled their lineup
. They could also use improvement late in the games, as their 10 blown saves and 17th-place 3.56 bullpen ERA attest. Rookie
Jordan Walden
has kept
Fernando Rodney
at bay since grabbing the job in April and has delivered a 2.96 ERA, 10 saves and 29/13 K/BB ratio in 27 1/3 innings. Strong numbers, but that's a healthy number of walks and with an overall bullpen that could use an upgrade, Walden would deepen the bullpen if he could pitch from a setup role, putting Bell in the driver's seat. In addition, Los Angeles would have the funds to extend Bell, especially after eschewing
Carl Crawford
's prime years to get four years of a decrepit
Vernon Wells
.
Blue Jays --
This one is a bit of a stretch given the Jays are in a bit of a retooling year, but the club has struggled with Frankie Francisco at closer and prefer
Jon Rauch
as the eighth-inning guy -- and also has
Octavio Dotel
in reserve. If Toronto is in the playoff hunt come mid-July, it could start looking to add pieces and Bell would be an improvement. Toronto would also have the funds to extend Bell as they gear up to compete. But with three pitchers capable of closing already in the fold and the assets required to get Bell, it's tough to see the Jays having any interest.
Cardinals --
The Cardinals have already had four different closers --
Ryan Franklin
, Mitchell Boggs,
Eduardo Sanchez
and
Fernando Salas
-- but seem to have settled on Salas. The rookie is making it easy for St. Louis to move on from closer as a gaping hole by posting a 1.88 ERA in 28 2/3 innings. He notched 10 straight saves before blowing his first on June 1 and bouncing back to collect a win on June 5 and a two-inning save on the 6th. Still, Salas is an unproven player and Tony La Russa isn't too keen on giving these types of players major, important roles. Witness how much
Colby Rasmus
struggled to get consistent playing time last season. Bell doesn't really make sense here, as the Cardinals would be giving up future assets for a temporary fix, as they probably couldn't retain Bell and
Albert Pujols
both after the year. Still, given the Cardinals theoretically have a need at closer, they land on the list.
Dodgers --
Not only would the Padres not be keen on shipping Bell in the division, can Los Angeles really afford Bell's price tag this year and next year? Probably not, but assume for a minute that Frank McCourt defeats his ex-wife in court later this month, removing her as a roadblock to his white whale of a TV deal that will save his finances. Assume further that monitor Tom Schieffer finds no issue with the finances, which leads to the TV deal approval, putting McCourt in the driver's seat by mid-July. If the team is still hanging around in the playoff chase (or even if not; McCourt may want to make an adamant splash), Bell would make sense for a team that's been cycling players in and out of the closer's role due to attrition or injury.
White Sox --
GM Kenny Williams has never been afraid to make a move and with the ChiSox scuffling, they need some help quickly as Detroit takes charge of the Central and the
Indians
are sliding back to obscurity. The White Sox are on the fringes of the postseason race, but it's still very early and the club is too talented to continue bumbling along. Nailing down the ninth inning, a source of consternation all season, could be the salve that the starting pitching and relievers need to do their job more effectively. It could also relieve pressure on the offense, but all that is intangibles. Looking at the bottom line, Bell would drastically improve the late-inning effectiveness of the ChiSox, who are 6-9 in one-run games and have blown eight games, sixth-most in the AL. Yes,
Sergio Santos
has settled things in the closer's role, but he still walks a copious amount and is currently benefiting from just 22 percent of balls falling for hits (league average: 30 percent) and stranding baserunners at an abnormally high rate.
For more baseball news, rumors and analysis, follow @cbssportsmlb on Twitter or subscribe to the RSS feed.