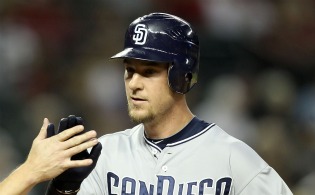 By Evan Brunell
The
Padres
are willing to trade left fielder
Ryan Ludwick
, and the
Reds
could be a fit, writes Hal McCoy of The Dayton Daily News.
Ludwick, who was acquired by San Diego from St. Louis at the trade deadline of 2010, has found the going rough thanks to his new home park. He has hit just .234/.314/.367, the worst numbers he's had since becoming a starter in 2007 for St. Louis.
But Ludwick could move to a park friendlier for his offensive talents. Walt Jocketty, the man who brought him to the
Cardinals
, is now the Reds' GM, and Cincinnati
has struggled to fill the left field position capably.
Jonny Gomes
has lost his starting spot and is fighting with
Fred Lewis
and
Chris Heisey
to stay afloat.
The Padres can make Ludwick available because top prospect Anthony Rizzo is on the verge of the majors and would play first base. That moves
Brad Hawpe
to the outfield. While
Cameron Maybin
is on the DL, that won't create a playing-time crunch. But once Maybin returns, the Padres will have to go with a Ludwick-Maybin-Hawpe alignment and relegate
Chris Denorfia
to the bench -- plus block a possible promotion of Will Venable or Kyle Blanks.
While Ludwick is one of the better hitters on a light-hitting team, he's also 32 with a big home/road split. San Diego would likely be better off finding someone more tailored to the home park and who isn't an impending free agent. The Padres are "just" 6 1/2 games out of first. Their 28-34 record isn't entirely worthy of being in last place, though, so San Diego will likely hold off until nearer the deadline to evaluate the team with Rizzo's bat in the lineup -- as well as hope some of the other hitters such as
Orlando Hudson
catch fire.
If Ludwick becomes available, his struggles in Petco Park won't be enough to dampen interest in him. He's still a solid power hitter, which is increasingly in demand as pitchers take hold of the league.
For more baseball news, rumors and analysis, follow @cbssportsmlb on Twitter or subscribe to the RSS feed.