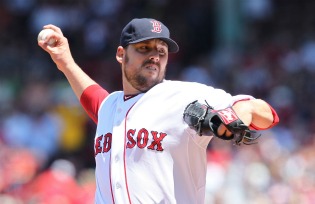 By Evan Brunell
John Lackey
said on Tuesday that the right elbow strain that put him on the 15-day disabled list will get worse but is now just normal soreness,
WEEI reports
.
"It's going to get worse eventually," he said after holding the
Athletics
to three runs in 5 2/3 innings on Sunday in his return from the DL.
Lackey received a cortisone shot to help manage the pain, which he said got the swelling down. "(Now) things aren't hitting against each other. That didn't feel so good. It's probably going to be something I have to stay on top of. The guys did a great job of helping me come back, so hopefully we can keep it where it is."
The injury caused Lackey to miss 53 days in the early part of 2009 and led to him signing a five-year deal that stipulated a sixth year at a league-minimum salary if his elbow concerns cropped up again. The injury that landed him on the DL didn't count as the trigger for the sixth year.
"I know I have damage in there already, so you never know for sure," Lackey said about an injury that has rendered him a bust in Boston so far. "But every pitcher will find something. Some of us just got a little more than others." Lackey added that an MRI revealed that the condition of his elbow is similar to what it was when he joined Boston before the 2010 season.
If Lackey's elbow gets worse, that suggests he'll eventually need surgery. One could argue that he should undergo it now, but surgery should always be avoided if possible, and the Red Sox desperately need Lackey's innings in the middle of a rotation that has depth concerns. If Lackey's swelling stays down, he can last the rest of the year and then undergo offseason surgery, provided he's back and healthy for spring training. But one can't help but think his shoulder is a ticking time bomb.
For more baseball news, rumors and analysis, follow @cbssportsmlb on Twitter or subscribe to the RSS feed.