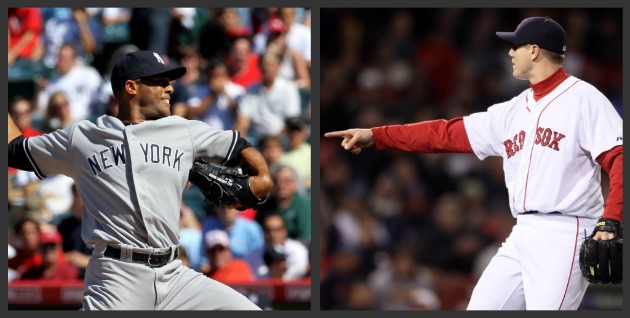 By Evan Brunell
Jonathan Papelbon
reached a milestone Tuesday, by notching his 200th career save and becoming the fastest closer to 200 saves. He did so in 359 games, breaking
Mariano Rivera
's record by 23 games.
Papelbon's had a tough go of it lately. His 3.90 ERA set last season was a career high over the 2.65 mark he tossed up in his rookie year, when he started three games and relieved in an additional 15 with no saves to his ledger. A couple of disastrous stints recently have lifted his ERA to 4.50, but all told is having one of his finer seasons in the majors as his 2.16
xFIP
indicates.
Papelbon, who admitted that getting his 200th save was special for him, had effusive praise for Rivera, whom the
Red Sox
tried to entice this offseason with a two-year deal to replace Papelbon.
"I think I've said this 100 times, I've always called him the godfather. That's what he is: he's the godfather of this role,'' Papelbon told the Boston Globe. "He's the one that has made this role what it is today. There's no ifs, ands, or buts about it."
All true. Rivera doesn't hold the career saves record set by Trevor Hoffman last season, but with 16 saves on the season he is just 26 away from the record of 601. (Check out an interview with Hoffman conducted by MLB, and his opinion of Rivera passing his record.) At age 41, his streak of a sub-2.00 ERA doesn't appear to be ending anytime soon, as well as his career. At the rate Rivera is going, he could be the best closer in the game at age 50.
But does Papelbon have a chance of catching and passing Rivera for all-time saves? After all, if Papelbon beat Rivera to 200 career saves, it stands to reason he could overtake Rivera by the time Papelbon is ready to hang up his cleats. Rivera was 31 when he hit 200 saves. Papelbon, at a full year younger, would seem to have a pretty good chance.
Don't bet on it.
There are two major reasons while Papelbon will not match Rivera's mark and could struggle to even reach 500. The first is the fact that Rivera is an ageless phenomenon, notching more saves from age 35 on than he had up to age 31 with 239. Only Hoffman (249) and Dennis Ecklersley (293) had more, and only four other names are within 100 of Rivera: Jose Mesa, Doug Jones, Hoyt Wilhelm and John Smoltz. Just 14 overall had 100 or more saves at age 35 or older. (See table.) That's rarefied company, and while Papelbon has the talent to last as long as Rivera has, the odds are small.
Closers like Rivera and Hoffman, who last years in the role, are the exception. All too often, it seems that closers have a good five-year run in them before they collapse. To have someone closing for almost two decades at an elite level -- that's an even tougher class to crack. That group is only inhabited by Rivera and Hoffman, and Ecklersley if you choose to include him even though he had a strong 12-year run as a starter before closing. Even if Papelbon can keep up the quality that is allowing him to succeed so far, it's a lot to ask someone to average 40 saves over the next 10 years, which Papelbon would need to do to keep pace.
But can Papelbon keep up what's gotten him so far? He lacks a signature pitch that doesn't rely on velocity, like Rivera's cut-fastball or Hoffman's "Bugs Bunny" changeup. Papelbon has a great fastball, but he can't keep up that type of heat and command consistently over the next decade throwing at maximum velocity with each pitch. That would defy the aging process. Take a look at the leaderboard for average fastball velocity for relievers from 2009 to now. How many late 30s/early 40s relievers do you see? (None; the only one older than 35 with at least a 94-mph fastball is Francisco Cordero at age 36.)
To last into his late 30s and early 40s, which Papelbon has to do to catch up with Rivera, one of his secondary pitches is going to have to improve. The splitter? Not likely, as the effectiveness of that pitch goes along with the fastball. He also has a quality slider, but it's certainly not a Daniel Bard slider; it's one that he uses to keep batters honest but is not a put-away pitch.
Papelbon may have been the fastest to reach 200 saves, but barring turning into a freak of nature (which is exactly what Rivera is), don't bet on Papelbon passing Rivera -- or even Hoffman -- on the career saves list.
For more baseball news, rumors and analysis, follow @cbssportsmlb on Twitter or subscribe to the RSS feed.