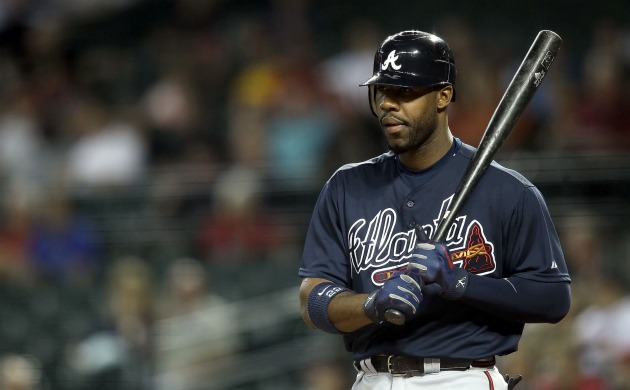 By Evan Brunell
To play or not to play?
That's a question that injured players have to grapple with, but
Jason Heyward
has been adamant that he will not return to the lineup until his shoulder is completely healed. He struggled to play through injuries as a rookie last season and at the start of this season, notes the
Atlanta Journal-Constitution
.
Heyward played 142 games as a rookie, hitting an impressive .277/.393/.456. His numbers could have been much better if not for groin, thumb and knee problems that hindered him all season and caused him to hit the 15-day DL at the end of June. In June he was clearly struggling with a .181/.287/.245 line. Heyward's struggles this year have resulted in a .214/.317/.407 line in 161 plate appearances, so he clearly needed a break because of his shoulder, which was sore to begin the year but graduated to outright pain by mid-May.
Braves
veteran
Chipper Jones
, however, says that Heyward needs to reconsider his statement about being fully healthy before returning.
"I think where Jason might have erred was the comment that he made, 'I'm not coming back until it doesn't hurt anymore.' That has a tendency to rub people the wrong way," Jones said. "And we understand where he's coming from -- he wants to be healthy when he plays, so he can go out and give himself the best opportunity to be successful. I get that.
"What Jason needs to realize is that Jason at 80 percent is a force, and Jason at 80 percent is better than a lot of people in this league. And that there are a bunch of his teammates that are out there playing with discomfort and not healthy, and still going at it."
This is a sensitive topic, and there's no real answer. Everyone reacts and adapts to injuries differently, and baseball is a macho culture that demands everything it is to be macho: swagger, grit, manning up and playing through injury. No one likes an injury-prone player, as Boston's
J.D. Drew
can attest, who also struggles with perception about his attitude and the fact he spurned the
Phillies
in the 1997 draft. And sure, there are definitely plenty of players out there who refuse to play at anything less than 100 percent to pad statistics and ensure health, but there's plenty of other players who don't play unless they are 100 percent because they simply can't.
No one really knows which camp Heyward falls in, and he probably doesn't know himself either.
"There's not [pat answers]; it's within each individual player," Jones acknowledged, but that didn't stop him from making his opinion known. And when the great Jones speaks, especially regarding someone who grew up in Georgia, many people including Heyward himself can't help but listen.
"It's just a situation where, I don't think he really realizes how much of an impact he has on the game just by his presence," Jones added. "And that's something I had to learn, too. When I started going through my injuries early on, obviously I wanted to get healthy and whatnot. But I realize that, even now, my presence in the lineup means something. Whether I'm healthy or not.
"And he's more of a benefit to us standing out there in right field than he is down here in Florida [at extended spring training]."
Can you blame a 21-year-old who has a bad taste in his mouth from 2010 for taking a step back and looking to get his entire body healthy? The Braves won't benefit from Heyward at 80 percent for the rest of the year if that means he's 80 percent for the rest of his career. Heyward has the chance to be a once-in-a-generation hitter, and one could argue he's already proved his willingness to play through pain. Yet, here's Jones adding even more pressure to a person burdened by lofty expectations.
"[Heyward is] feeling a better, so that's a good sign," manager Fredi Gonzalez noted. "Probably about three or four days away from swinging a bat. What I mean by that, probably hitting off a tee, soft-toss."
If Heyward progresses normally, he'll graduate to batting practice and/or an extended spring training game, then go on a minor-league rehab assignment for a few games. At the earliest, Heyward still figures to be out until Father's Day weekend. Hopefully that's fast enough for Chipper Jones.
For more baseball news, rumors and analysis, follow @cbssportsmlb on Twitter or subscribe to the RSS feed.