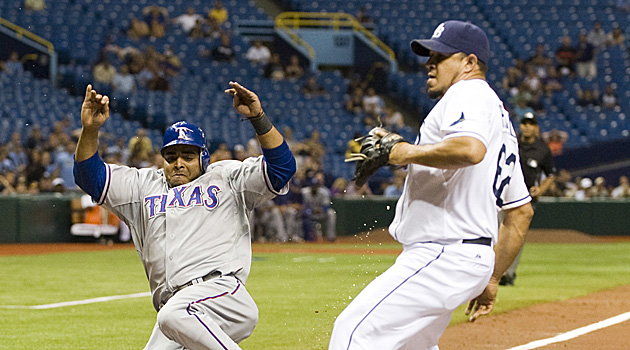 By Matt Snyder
Despite the recent turn from an embarrassment into one of the most-respected franchises in baseball, the Tampa Bay
Rays
still have problems drawing attendance. In terms of average fans per home game, the Rays' ranks from 2008 to present are as follows: 26, 23, 22 and 29. That's right, only the
Marlins
are drawing fewer fans per home game this season.
The drop, about 5,000 fans per game so far, could be explained by myriad factors, including the fact that the Rays had to let several recognizable faces leave via trade or free agency -- including
Carl Crawford
, who had been the face of the Rays for the better part of the last decade. For whatever the reason, though, attendance is a big problem for the Rays. It always has been, but now it's more dire than before.
"[Attendance] could be better and should be better," Rays owner Stuart Sternberg told
Tampa Bay Online
. "I know we can't sustain ourselves like this. We had another successful year last season and the economy, while it's not good, has not gotten worse. But our numbers I think will be down, coming off a postseason appearance. It's unheard of."
It might be less surprising if there were no Rays fans or the team was enduring a run of futility like the
Pirates
or
Royals
, for example. But with a team that sits within striking distance in the AL East after having won it last season, you start to worry if it's a problem that can't be fixed with the circumstances as they are at present. Perhaps a better stadium with a more convenient location would help. Regardless, Sternberg believes the problem is not one of fan support -- just that fans aren't attending the ballpark.
"People are watching us on TV and listening on the radio," he said. "I walk around and I see all the hats. I want to have a team that's going to be able to compete, but we can't lose money year in and year out, hand over fist. To run a payroll like we do now, basically the second-lowest in baseball, and barely keep our nose above water, we can't sustain that.''
The good news is there's a lot of season left. It's summertime, schools just got out (or are getting out soon) and the Rays are proving they can stick in the race. They have to hope that makes the turnstiles much more active in the coming months.
For more baseball news, rumors and analysis, follow @cbssportsmlb on Twitter or subscribe to the RSS feed.