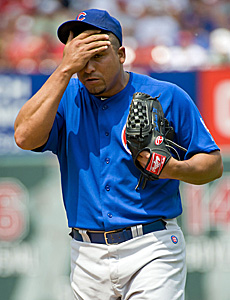 By Matt Snyder
One day after publicly calling his team an embarrassment and likening them to a Triple-A team,
Carlos Zambrano
has reportedly cleared the air with teammates, specifically
Carlos Marmol
. Marmol blew a save in the ninth that would have earned Zambrano the win and Zambrano questioned his pitch selection against
Ryan Theriot
on the game's tying hit.
Monday, Zambrano told reporters that he apologized to Marmol and that his comments were made in frustration. Marmol accepted the apology and said there were no problems between the two in the first place (
MLB.com
via Twitter).
Now, let's have all the Zambrano haters please take a deep breath, OK?
It's not an anger management problem if you're upset that your team has lost six games in a row. That's a matter of being a competitor. He didn't throw things or break anything. He didn't charge a teammate or even have to be held back. He used words. Words that some of his teammates -- and definitely many of the team's fans -- were likely thinking, just not vocalizing. I'd actually be worried if no one on the team was vocalizing anything by this point. The season is slipping away.
And yet there was a column in a prominent Chicago newspaper Monday morning calling for Zambrano to be suspended until he's traded. Basically, the call was for Jim Hendry and the
Cubs
to give Zambrano the Milton Bradley treatment. I'll again point out that the only thing Zambrano did was say a few words. He didn't even swear. He has now cleared the air with Marmol, and manager Mike Quade didn't even fine Zambrano. Monday, reporters also passed along that Zambrano expressed confidence in the Cubs moving forward, saying "it's not over yet" when asked about the NL Central race.
If someone else -- like a
Kerry Wood
or
Marlon Byrd
, for example -- had expressed the same frustrations, I wonder what kind of response it would have elicited. Obviously, there's no way to prove that it would have been different. I just feel like there was a bit of an overreaction because it was Zambrano.
Regardless, the situation should be concluded now, and the Cubs will be forced to deal with the actual problems on the ballclub. There are issues far bigger than one involving a player who just really wants to win.
For more baseball news, rumors and analysis, follow @cbssportsmlb on Twitter or subscribe to the RSS feed.