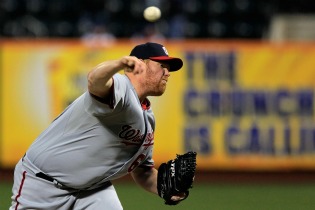 By Evan Brunell
In Ken Rosenthal's latest column for Fox Sports, he writes about the trade market as it relates to the Rangers, saying the team could deal Julio Borbon, Taylor Teagarden or Chris Davis.
Texas has been hunting for relievers, and Nationals righty Todd Coffey (pictured) has grabbed its attention. In his first year with the club, he punched out 23 batters in 22 1/3 innings, walked a manageable eight and allowed just one home run. Given Coffey's run of being with the Reds, Brewers and now the Nationals, he's not a well-known name but has quietly emerged as one of the game's best middle relievers.
The Rangers have also been heavily linked to the Padres' Heath Bell, although that appears to be more of a function of people thinking he would be a good fit. Bell would allow the Rangers to move Neftali Feliz into the rotation, but for now Feliz is the closer and that's not changing. And why would Texas pay a premium for Bell when they can turn to what will be a robust free-agent market that could include Bell?
That aside, Rosenthal names Chris Davis as a potential fit for the Padres, a fit that doesn't quite make sense. Yes, San Diego could use Davis's punch, but the Pads will not block Anthony Rizzo at first base. The 21-year-old is tearing Triple-A apart and is already pressuring incumbent Brad Hawpe to hit the majors. Nor would Davis be a fit at third, as Chase Headley has that position on lockdown. GM Jed Hoyer could ask Davis to learn left or even move Headley back to that spot, but it's tough to see that coming about.
The Rangers have their own outfield conundrum. Rosenthal thinks the Nationals could be interested in center fielder Julio Borbon and could possibly send Coffey and another piece to Texas for the speedster. Borbon has attempted to claim the center field job in Texas for the last two seasons, but he still hasn't run away with the job and just earned a demotion to Triple-A. Meanwhile, Texas also has Cuban defector Leonys Martin, who signed a big deal and is currently laying waste to pitchers in Double-A. Martin could earn a promotion to Triple-A shortly and fully supplant Borbon as the team's center fielder of the future by the end of the season.
If Coffey isn't viable, Rosenthal wonders if the Giants could trade for catcher Taylor Teagarden -- another player who has struggled to produce in Texas and has fallen out of favor -- and offer up one of their right-handed relievers as bait.
For more baseball news, rumors and analysis, follow @cbssportsmlb on Twitter or subscribe to the RSS feed.