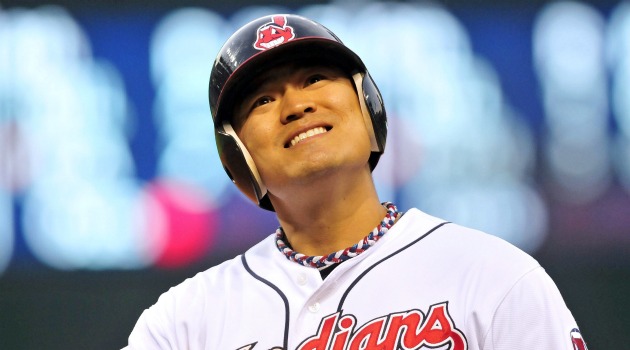 By Evan Brunell
For a few years now,
Shin-Soo Choo
has been one of the most underrated players in baseball while quietly racking up numbers for the
Indians
.
This season, the Indians raced out to the best record in baseball before a four-game sweep dropped them behind St. Louis, Texas and Philadelphia, Choo has barely contributed with a .239/.319/.354 line in 238 plate appearances while hitting just five home runs. His balls aren't finding holes and his plate discipline has eroded.
"There's been a lot of stress this year," Choo told
MLB.com on Sunday
. "My wife has told me not to worry about it. I mean, I know. But it's hard to do it."
Choo admits that it's been tough to avoid thinking about other people's perceptions of him or ignoring what has been put out by the media.
"I need to close my ears, close my eyes," Choo said. "It's not easy, though.
"I know what the problem is right now," he added. "I'm thinking too much. I'm trying too hard. That's just my natural thought. I talked about it in spring training. Sometimes it helps and sometimes it makes it worse. It's given me a lot of stress."
In an attempt to right the ship, manager Manny Acta gave the lefty the day off Saturday, then batted him sixth on Sunday instead of his customary spot in the three-hole. For his part, Choo is trying to force his mind to focus on what it was like back in 2000, when he came to America from Korea.
"Eleven years ago, I was 18," Choo said. "After high school, I came to the United States. What was my goal? I wanted to play in the big leagues. The big leagues is the best baseball in the world. My name, everyday, is on the lineup card. If it's the nine-hole or eight-hole, it doesn't matter. Every day, my name is on the lineup card.
"I have bigger goals right now. But for the first time, I've backed up my mind to 11 years ago. I'm trying too much right now, so I'm trying to go back to 11 years ago, where I came from in Korea, wanting to make the Major Leagues.
"I'm playing in the Major Leagues. I'm still playing in the best league on the best team in baseball. I'm trying to slow down my mind a little bit."
No one's saying that Choo's mental struggles aren't impacting his play at the plate, but looking at pure statistics, it's easy to see what's changing. Choo is walking less, which could speak to reduced patience at the plate. However, Choo is actually swinging less than he has at any time in the majors, but his strikeout numbers are the highest since he broke out. His batted-ball numbers haven't changed significantly, but one other thing has -- balls in play. Choo is only seeing 30 percent of his batted balls fall for hits, compared to a career 35 percent mark which is a major reason for his decline. That doesn't mean there aren't any other reasons, or that the liners he's hitting this year aren't softer than last season's. That would impact whether they fall for a hit or not, but at least statistically, the numbers scream that Choo will eventually start hitting like his old self, mental struggles or not.
It hasn't been easy, though, and his DUI arrest on May 2 has complicated matters. Choo feels like he let down the Indians and their fans, plus his legion of fans back in Korea.
"I have two different countries. I worry about more fans. ... [After I was arrested], I wanted to play good in the field. I show better play and then try to make people forget about that happening."
No one's excusing Choo's DUI -- especially since he was well over the legal limit -- but Choo clearly is bothered by his arrest and wants to clear his name with fans. It's easy to see how he could press at the plate as a result, but before long, he should be back among the league's elite.
For more baseball news, rumors and analysis, follow @cbssportsmlb on Twitter or subscribe to the RSS feed.