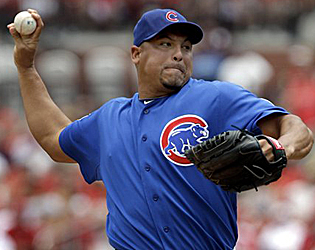 By Matt Snyder
After the
Cubs
blew the game Sunday afternoon to the
Cardinals
-- their sixth straight loss and eighth in their last nine -- starting pitcher
Carlos Zambrano
was evidently a bit upset. He reportedly said the Cubs are "embarrassing" and a "Triple-A team" (
Paul Sullivan
via Twitter). This came after
Carlos Marmol
blew a save for the second consecutive Zambrano start -- meaning Zambrano went 15 innings and allowed just two earned runs in his past two starts, yet the Cubs lost both times.
The big blow Sunday was
Albert Pujols
hitting a walk-off home run for the second straight day, though Zambrano was more peeved with
Ryan Theriot
's game-tying double in the bottom of the ninth (via
Chicago Tribune
)
"The problem wasn't Pujols," Zambrano said. "The problem was the (game-tying) at-bat. We should know better than this. We play like a Triple-A team. This is embarrassing, embarrassing for the team and the owners."

"Embarrassing for the fans. Embarrassed- that's the word for this team. "We should know better than this. We should know better than what we (did) on the field. We should know that Ryan Theriot is not a good fastball hitter. We should know that as a team. We should play better here. We stink. That's all I've got to say."
Zambrano's referencing the fact that Marmol shook off
Koyie Hill
's fastball and instead giving up Theriot's double on a slider.
The interesting thing about these post-game statements is that Zambrano said all the right things last time out and offered support to Marmol. Apparently he couldn't take it for the second consecutive time and melted down. I can envision Zambrano catching a lot of flak for this, but is he really wrong? The Cubs obviously don't have the best collection of talent and have suffered injuries, but they're playing pretty embarrassing baseball right now. They can't protect leads, they recently went 21 innings without taking a walk -- and
the streak was broken by Zambrano
-- they make careless errors and hit terribly with runners in scoring position.
It's just a bad baseball team. The guess is Zambrano's not the only one who feels this way, he's simply the only one vocalizing it.
For more baseball news, rumors and analysis, follow @cbssportsmlb on Twitter or subscribe to the RSS feed.