By C. Trent Rosecrans
So, I guess it's about time for the day's Buster Posey update -- I'll resist a "Generalissimo Francisco Franco is still dead" joke -- and this one is from Joe Torre, MLB's executive vice president of baseball operations.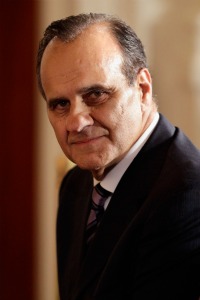 Torre, a former catcher, says it's unlikely baseball will change any of its rules as a result of Posey's injury.
"I think it's safe to say that I don't anticipate any changes, but I'm willing to listen," Torre told MLB.com.
Torre said he's talked to Giants general manager Brian Sabean and manager Bruce Bochy about the play on May 25.
Torre said he didn't see anything dirty about the play and didn't believe Scott Cousins was trying to hurt Posey.
"I spoke to Brian Sabean [Friday] and Bochy [Thursday], and I told them I'd be willing to sit with them and whoever they want to invite to discuss it," Torre said. "I told them that I didn't see anything that had to be changed, but I certainly would be open to listening to them. I think they just what discussion."
Another former catcher spoke up on the play, as perhaps the best catcher ever, Johnny Bench, told the Tulsa World that Posey "put himself in such a bad position" on the play.
"I teach my kids to stay away from the plate when you don't have the ball so the runner actually sees home plate and his thought is, 'slide,'" Bench told the newspaper. "But Buster is laying in front of home plate, and it's like having a disabled car in the middle of a four-leaf highway. You're just going to get smacked. Show them the plate. You can always catch the ball and step, or step and catch the ball, as long as you've got the runner on the ground. And if you have the runner on the ground, there's less of a chance of any severe collision."
For more baseball news, rumors and analysis, follow @cbssportsmlb on Twitter or subscribe to the RSS feed.