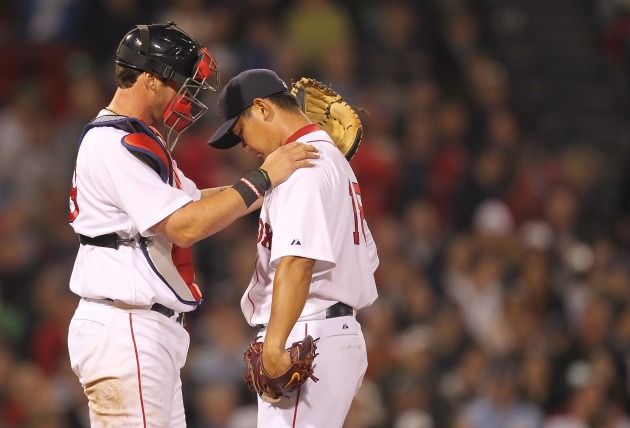 By Evan Brunell
Peter Gammos appeared on
WEEI Friday
to speak about a host of topics, namely
Daisuke Matsuzaka
, whom the iconic sportswriter said will probably never pitch again for the
Red Sox
.
"The player's made up his mind he's going to have Tommy John surgery," Gammons said. "And if that's the case, it's a minimum of 15 months, so what are we talking about, August? He's not coming back August to September next year. He's going to go to Japan. His contract's up at the end of next year. He can go back to Japan."
The fact that Dice-K may go back to Japan is interesting, but it appears as if Matsuzaka just doesn't work in the United States. He chafes under the American way of baseball, ranging from the way Boston wants him to exercise to not being able to rack up pitch counts, trying to nibble instead of attack. The list goes on. Leading up to the recent decision to have Tommy John surgery, there have been constant clashes and communication issues that could all be borne out of the fact that Matsuzaka "doesn't trust people," as Dice-K's agent told Gammons.
"It's very hard to build up a relationship with a franchise if a guy doesn't trust them," Gammons added. "I don't think he really made a great effort to adjust to this culture. I think that was one of the problems, the communication and the adjustment to the culture, which he didn't really go in for."
If Matsuzaka never pitches in the MLB again, which appears probable, he'll leave behind failed expectations after a shocking $51.1 million posting fee and hoopla that ranked him as one of the best Japanese pitchers to ever play.
"I think at times he was a pretty good pitcher, his first two years," Gammons noted of Matsuzaka, who went a combined 33-15 with a 3.72 ERA in 61 starts in 2007 and 2008, earning a World Series ring his first season. "But in the end, in terms of a six-year deal, they got about one-third of it out of him. He never performed as well as the expectations surrounding him."
"The expectations and the reality were a couple hundred miles apart.
"


And now, if and when Matsuzaka goes back to Japan, he'll be thousands of miles from where he was supposed to become a legend.


For more baseball news, rumors and analysis, follow @cbssportsmlb on Twitter or subscribe to the RSS feed.