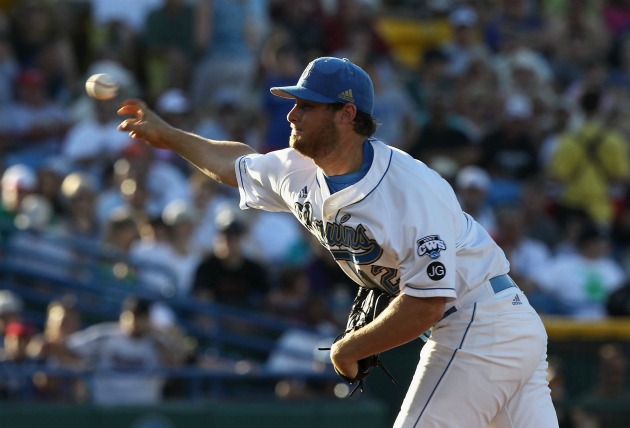 By C. Trent Rosecrans
The baseball draft is certainly a different animal than its football or basketball counterparts. There's not a lot of hype leading up to the draft. It's being televised for just the fifth time this season, and chances are you've never seen any of the top prospects play.
There are plenty of negatives to the way the baseball draft goes, but there are plenty of positives, too. While in three of the past four televised drafts, the No. 1 pick has been a slam-dunk, sure thing, three days out from this year's first round (Monday, 7 p.m. ET on MLB Network), the question of who the Pirates will take is still just that -- a question.
The last two seasons, the Nationals took Stephen Strasburg and Bryce Harper -- two no-doubt, easy picks. In 2007, the first year the draft was on TV, there was little to no doubt that David Price would be selected by the Rays. In 2008, Tampa took high school shortstop Tim Beckham over the likes of Buster Posey, Eric Hosmer and Gordon Beckham.
This year is more like 2008 than the others in the TV era, and not just because Gerrit Cole will be selected in the first round of both drafts.
Cole, taken No. 28 overall by the Yankees in 2008, is considered the most likely choice of the Pirates on Monday, but others could be considered.
So, starting with Cole, here are the 10 names you need to know leading up to this year's draft, which starts Monday:
Cole, RHP, UCLA -- Cole throws 100 mph, which is something that's pretty special and tough to pass up.
Matt Barnes, RHP, UConn -- Barnes dominated in the Cape Cod League last year. At 6-foot-4, he has an ideal build to go with a mid-90s fastball and a hammer of a curve.
Trevor Bauer, RHP, UCLA -- UCLA's other starter has drawn comparisons to Tim Lincecum because of his unorthodox motion. He's a devotee of long-toss, which could scare off some teams.
Archie Bradley, RHP, Broken Arrow (Okla.) HS -- Bradley has signed a scholarship to play quarterback at Oklahoma, but a top-10 signing bonus can certainly change that.
Dylan Bundy, RHP, Owasso (Okla.) HS -- The top high school pitcher in the draft has what some are already calling a major-league ready fastball and curveball. His 6-foot frame is about the only knock against him.
Danny Hultzen, LHP, Virginia -- The Diamondbacks drafted the lefty three years ago out of high school in the 10th round and most expect them to do so again on Monday with the third overall pick.
Taylor Jungmann, RHP, Texas -- A 6-foot-6 right-hander who went 13-0 for the Longhorns this season. He had a 0.95 ERA in 15 starts, striking out 116 in 122 2/3 innings.
Francisco Lindor, SS, Montverde (Fla.) Academy -- The top high school infielder doesn't have the great power that others have, but he's a very good defender at shortstop and is a switch hitter.
Anthony Rendon, 3B, Rice -- If the Pirates don't take Cole with the top pick, they could take Rendon, who was relegated to DHing this season because of a shoulder strain. Still, when healthy, he has a plus arm to go along with plus power and a plus hit tool. A solid defender at third base, he played just eight games in the field this season.
Bubba Starling, OF, Gardner-Edgerton (Kan.) HS -- Starling may have as much potential as anyone in the draft, but he may be the biggest risk. Like Bradley, he's also a quarterback and there are reports that he will go to Nebraska in July regardless of where he's drafted.
For more baseball news, rumors and analysis, follow @cbssportsmlb on Twitter or subscribe to the RSS feed.