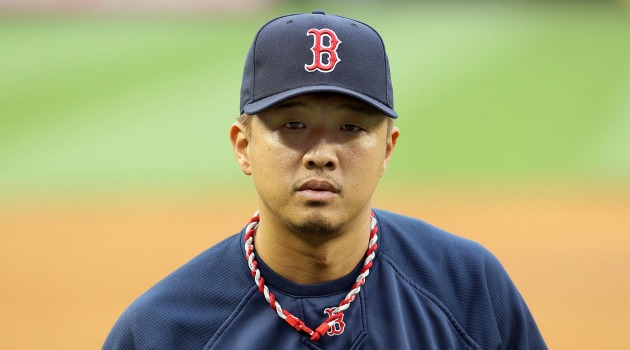 By Evan Brunell
When Hideki Okajima returned to the
Red Sox
after being non-tendered this offseason, he said he wanted to be back with Boston. That's changed.
After Okajima was promoted early April to fill a spot in the bullpen, he pitched in middle relief and wasn't all that great, but did have a 4.32 ERA, so that's not... bad? But when the Red Sox took a flier on
Franklin Morales
, Okajima was booted to Pawtucket after being designated for assignment. When he chose to remain with the team off the 40-man roster to keep his $1.75 million, he went back to Pawtucket and now hopes to stay there and get traded, as the
Boston Globe
reports.
It's one thing to ask for a trade, but Okajima said he didn't have any hope of being called up to replace
Rich Hill
in the bullpen. Hill recently learned he would have to undergo Tommy John surgery after a promising start to his new career as a reliever and was the only left-hander in the bullpen.
"I'd rather not be called up in this situation,'' he said Wednesday from Pawtucket. Not everyone would turn down a Boston assignment, so why? Ask for a trade, but go pitch in the bullpen while you do it. But apparently, he
really
doesn't want to go back to Boston.
"It's definitely a new start for me,'' he noted. "I'm in a new position. It's all about pitching well and hopefully along the line another team will show more interest in me and I can be traded."
Okajima is certainly unhappy in his role, and it's hard to blame him personally, but he hasn't been the same reliever for quite some time. A change of scenery is needed for both sides at this point, but the Red Sox need Okajima's depth, so they may opt to keep him down at Triple-A for a while. No one will be looking to add Okajima's salary for as minimal a role as he would be expected to play, at least not yet. That is to say: the Red Sox won't promote him, but won't move him quickly either. So Okajima may have just cost himself a big-league spot for no real good reason. It would have done nothing but enhance his value.
For more baseball news, rumors and analysis, follow @cbssportsmlb on Twitter or subscribe to the RSS feed.