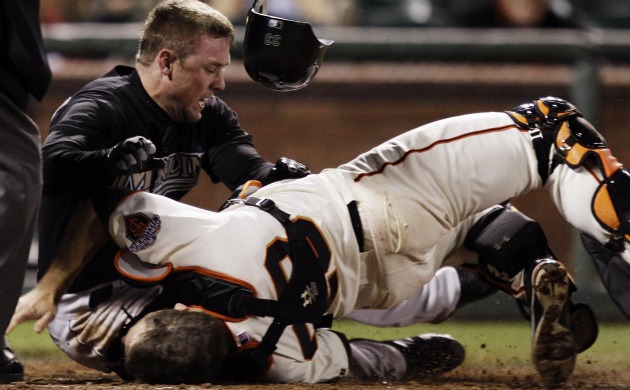 By Evan Brunell
Giants
GM Brian Sabean hit the KNBR airwaves Wednesday and had choice words for
Scott Cousins
, who was responsible for ending
Buster Posey
's season, the
San Jose Mercury News
reports.
"If I never hear from Cousins again or he never plays another game in the big leagues, I think we'll all be happy," Sabean said, calling Cousins' actions "malicious" and adding that he doesn't blame Posey for refusing to return Cousins' phone calls, as the
Marlins
outfielder has attempted to apologize. The 27-year-old barrelled into Posey on May 25, scoring the eventual winning run in the top of the 12th inning. Cousins had a fairly clear path to the plate, with Posey in front of the dish attempting to field a relay. Cousins chose to barrell into Posey rather than slide on the far end of the plate, causing a broken leg for the Giants' star player.
"In no way, shape or form was he blocking the plate," Sabean said. "He was just reacting to the throw and trying to get back to make a tag. So [it's] unfortunate. It's one of those things that happens to your family. Until it happens to you and hits home, maybe it's not as real what we're going through.
"If you listen to [Cousin's] comments after the fact, he pretty much decided -- and it was premeditated -- that, if he got a chance, he was going to blow up the catcher to dislodge the ball," Sabean said. "And if you watch frame by frame from different angles, he does not take the path to the plate to try to score. He goes after Buster, right shoulder on right shoulder, and to me, that's malicious."
Aren't those words harsh?
"Well, no," added Sabean, intimating that Cousins better be careful the next time Florida plays the Giants. "He chose to be a hero in my mind, and if that's his flash of fame, that's as good as it's going to get, pal. We'll have a long memory. Believe me, we've talked to [former catcher Mike] Matheny about how this game works. You can't be that out-and-out overly aggressive. I'll put it as politically as I can state it: There's no love lost and there shouldn't be."
The Marlins will host the Giants on August 12-14 in what will be the team's final matchup of the season. It's possible Cousins won't be around for that, however, as he's hitting .159/.245/.250 in 39 games and has generally been used as a pinch-hitter and defensive replacement.
These are strong words by Sabean, but it's hard to blame him. Posey was a crucial part of the Giants' club, had led the team to a World Series victory last season and was in his second season of what appeared to be a promising career. Now, Posey may never catch again.
"That's going to be up to Buster once he comes through this," Sabean said of Posey's future as a catcher. "I know he wants to catch. I know this is a horrific experience for him. He's in a lot of pain right now. It's psychologically difficult for him to rationalize this, so that decision is way up the line. But he's a warrior and if he wants to catch the position then I'm sure he'll come to camp next spring as a catcher."
If so, it's likely that Posey will stop blocking the plate the way he had been. His accident has caused many around the game to evaluate expectations of catchers. While no other position player or even pitcher is expected to put himself in harm's way like catchers, backstops have had to deal with the belief around baseball that catchers need to block the plate and absorb collisions to earn respect from players. Teams over the years have attempted to change this, and manager Bruce Bochy even told Posey not to block the plate in spring training, but all too often, it takes an unfortunate incident like this to spur change and shake up the macho culture that pervades sports.
For more baseball news, rumors and analysis, follow @cbssportsmlb on Twitter or subscribe to the RSS feed.