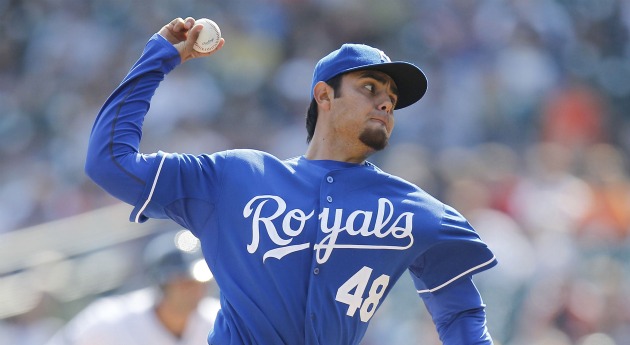 By Evan Brunell
The
Royals
plan to deploy booted closer
Joakim Soria
in middle relief, angling to use him in low-pressure situations and pitching multiple innings.
No, it's not to start a conversion to starting that many have called for over the years -- it's so Soria gets an extended chance to work on all four pitches in his repertoire, as
MLB.com reports
.
"It just gives him the opportunity to throw more pitches. It's pretty simple," manager Ned Yost said. "The more pitches he throws, the quicker he's going to get back to form."
Soria's vaunted repertoire and history as a starter in the minors has caused many to scratch their heads as to why K.C. hasn't attempted to make Soria a starter. Even an average starter brings far more value to a team than a good reliever. While Soria's been far more than just a good reliever, that means he'd probably be a pretty good starter, too.
"Let me put it this way: There's been no serious talk about that," Yost told MLB.com in a separate report. "He's got the pitches to be a starter. But there's no thought of that right now."
When Soria proves ready to return to the closer's role, the Royals won't hesitate to do just that and boot new closer Aaron Crow from the role.
"Everybody's pulling for him and everybody wants him to get back to his old self, so I'm right there with everybody else, just pulling for him,"
Crow said
, who has yet to earn a save but received the promotion on the strength of a 1.33 ERA in 27 innings. The rookie, who has been converted from starting, has found a new lease on life in the bullpen.
"He's got a lot of confidence in himself. He's got great stuff, and he's had great success at this point," Yost said of Crow. "We could actually do it probably with a number of guys, because they've all got pretty good numbers down there. But we'll just start with Aaron. He's been the eighth-inning guy, and he moves up."
For more baseball news, rumors and analysis, follow @cbssportsmlb on Twitter or subscribe to the RSS feed.