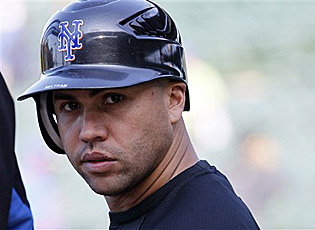 By Matt Snyder
Not surprisingly, the trade rumors are beginning build up all around baseball as we enter June and surpass the 1/3 mark of the season. Even less surprising is how often the New York
Mets
are involved in the rumors, what with their payroll issues and being more than eight games out in the tough NL East already.
While there obviously might be more players included in the rumors by the end of July, things will likely center around four big-name guys. A while back, I said we should brace for "
The Summer of Reyes.
" Of course,
Jose Reyes
has been playing so well, there are some calling for the Mets to
give him a nice-sized contract
and instead trade
David Wright
. Don't expect to stop hearing about
Francisco Rodriguez
being moved to someone for setup help, but
CBSSports.com's Danny Knobler makes a good case
why it won't happen. Now, let us enter
Carlos Beltran
into the rumor mill.
In fact, Beltran is the most likely Mets player to be traded by the July 31st trade deadline,
according to Jon Morosi of Fox Sports
.
It makes sense, because Beltran is a free agent after the season. Morosi also mentions a clause in Beltran's contract that guards against the Mets receiving draft-pick compensation should he walk as a free agent -- meaning: If Beltran leaves as a free agent, the Mets get nothing back.
Thus, Beltran fits the mold of a rental quite well, considering he's also proven that he's healthy enough to swing the bat with authority again. Entering Wednesday, Beltran is hitting .279 with 16 doubles, eight home runs, 28 RBI, 25 runs and an .875 OPS.
Oh, and then there's the whole thing about Mets owner Fred Wilpon talking about what a big mistake the Beltran contract was. With that in mind, don't expect any resistance to a trade from Beltran, even though he's a 10-and-5 guy.
Beltran does make about $3 million per month, so the Mets might have to pick up some of the tab in order to move him, but there's probably a deal attractive enough for all parties involved to help make that happen.
Regardless of what actually will happen, it's going to be a fun rumor season as always. And we won't be able to ignore the Mets.
For more baseball news, rumors and analysis, follow @cbssportsmlb on Twitter or subscribe to the RSS feed.