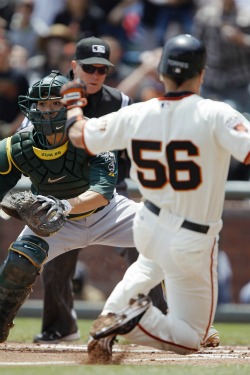 By C. Trent Rosecrans
A's general manager Billy Beane doesn't want another Bay Area catcher out for the season because of a collision at the plate. Beane told ESPN.com's Buster Olney that he's told A's catcher Kurt Suzuki not to block the plate on a play similar to the one that knocked San Francisco's Buster Posey out for the season.
"I said to him, 'I don't want you planting yourself in front of the plate waiting to get creamed. You're an athletic catcher -- be athletic. I don't subscribe to the theory you should be a crash-test dummy. I don't want to lose you for six months," Beane said.
Beane added that he told his catcher he could only think of a few runs in major league history that were worth the type of risk that goes with a collision at the plate.
Olney writes several other teams have told their catchers the same thing, but have not said so publicly.
Beane's right about this -- even a single win or loss isn't worth losing a player like Posey or Suzuki. Any front-line catcher is more valuable than a single game. Last season Suzuki was nearly a 2 WAR (according to FanGraphs) player, and he was worth three wins over a replacement player in both 2009 and 2008. So far this season FanGraphs has him worth 0.9 wins above a replacement. Still, as good as WAR is as a stat, I'm not sure it is at the point where it can accurately determine the worth of a catcher defensively -- and Suzuki is one of the best in that department, so whatever his WAR is may be just the tip of the iceberg in his true worth to a team and especially a pitching staff.
For more baseball news, rumors and analysis, follow @cbssportsmlb on Twitter or subscribe to the RSS feed.