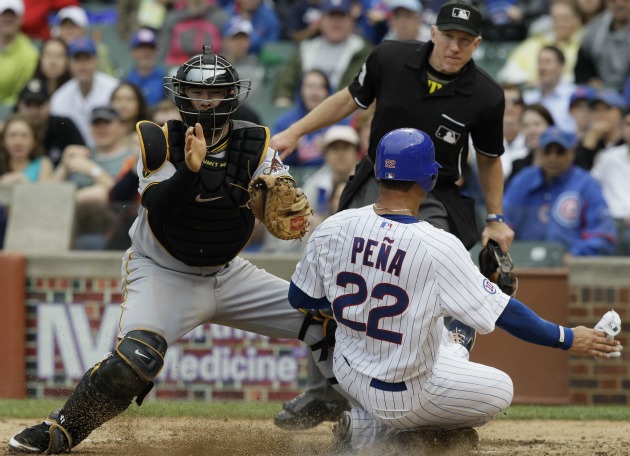 By C. Trent Rosecrans
You know, it's not going to cause outrage like another play at the plate, but Pirates catcher Ryan Doumit is out at least a month with a fractured left ankle, the Pirates announced on Twitter.
Doumit was placed on the 15-day disabled list Monday with what was then termed a sprained ankle, but it's apparently more than that.
Doumit was hurt on a play at the plate in the second inning of Sunday's loss to the Cubs. He didn't get run over like Buster Posey, but he showed that even if a player slides, it can still be dangerous. Cubs first baseman Carlos Pena slid while trying to score on a sacrifice fly. Doumit was blocking the plate with his left leg and Pena's hard slide hurt Doumit's ankle. The difference between Doumit's injury and Posey's is the lack of ligament damage in Doumit's ankle.
Doumit was hitting .269/.333/.441 with four home runs this season. The team called up catcher Dusty Brown on Monday to help replace Doumit.
The Pirates' biggest loss isn't as much on the field as it is having Doumit as a trade chip. Any team that trades for Doumit will have to see that he's healthy before pulling the trigger on a trade. Luckily, if he's only out a month, he'll have nearly a month to prove himself before the trade deadline.

The Pirates are looking to trade him because he's in the final year of a three-year contract that pays $5.1 million this season with a club option for the next two seasons at a total of $15.5 million, which the team may not be able to afford -- or may simply not desire to pay. Pittsburgh also has a $6.75 million option on Chris Snyder, and the team's top prospect is catcher Tony Sanchez, who is currently at Double-A and hitting .271/.378/.368.
For more baseball news, rumors and analysis, follow @cbssportsmlb on Twitter or subscribe to the RSS feed.